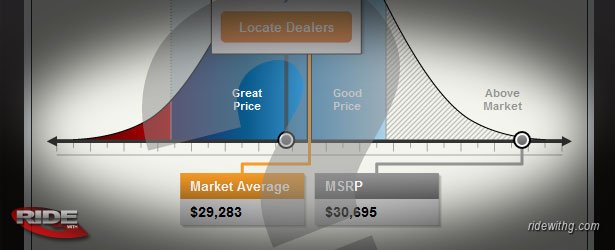 As you have probably noticed since yesterday, TrueCar.com stopped posting the dealer cost and factory invoice pricing on their website for some of you. From what I understand, this was not done "across the board". Per my email communication with a TrueCar representative, here is what's going on:
We have hidden the Dealer Cost and Invoice information on our pricing curve due to regulatory issues in several states, but the features should be available again in most states as early as next week.
In addition, she also said…
For those located in located in VA, TX, MD, CO, WA, OK, OR, NE or LA, we are working through certain features of our site with regulators and hope to be able to provide the more robust version of our curve soon.
So there you have it! It looks like a "temporary issue". This goes back to that Twitter post I made yesterday (http://t.co/AP8XFNbc) about how some local agencies are having issues with the "price guarantee", which was replaced by "market price" not too long ago.
In response to the Compete.com's article I posted, I think there's some truth to what's happening with TrueCar. However, I do not think that the January decline mentioned in the article is a prediction of TrueCar's future. I too received a noticeable decline in viewership and referrals which I attribute to the fact that months of January and February are typically HORRIBLE months for auto deals. Most people do take advantage of the DEALS during the holiday season, so buying cars (after spending a fortune on gifts) isn't really in the cards for most people.
If I had to predict TrueCar's future, here is what I think is going to happen…
TrueCar will continue to provide useful information to consumers in the short run. There will be some legal issues they need to work through, but I think the bulk the of the push back isn't going to come from city and state regulators, but from dealers. Dealers profit by keeping consumers " in the dark" and TrueCar's business model seems to irritate dealers and manufacturers because it cuts into their profits. I suspect there will be a lot of pressure from dealers and manufacturers which will affect TrueCar's business model. After all, we buy our cars from dealers, not TrueCar.