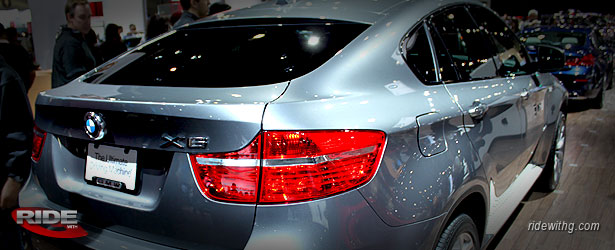 Slight drop in MF for some 2012 models, but the main story is that 2011 328i and 335i sedan lease support has been yanked. 30-month lease on  remaining 2011 AWD models still available, though. BMW has always been known for very strong residuals, but their MF has always been pretty high for a lot of their models. In cases like this, you just have to opt for MSDs to bring down the interest rate. However, before you make the decision, you need to be aware that you can risk losing that money if you try to trade-in your vehicle.
There is actually bonus cash available for folks shopping for a 3, 5 or M3 model. For the 3-series, there is $1000 in bonus cash. Those who belong to USAA can also qualify for one of two types of cash bonuses (depending on whether you finance through USAA or BMWFS). This cash is only available for retail purchases and lasts through the end of the 2012 calendar year.


Here is a sample calculation based on TrueCar's Southern California sale price and do not include local taxes. Please note that your dealer calculations may vary due to local fees/taxes.
2012 BMW 328i Sedan
MSRP – $35,795
Sale Price – $35,155
Monthly – $469+ tax
RWG Rating – 80.1


2011 BMW 328xi Sedan
36 Month – Residual 58% of MSRP – .00180 Base Rate
30 Month – Residual 64% of MSRP – .00180 Base Rate
2011 BMW 335xi Sedan
36 Month – Residual 53% of MSRP – .00180 Base Rate
30 Month – Residual 61% of MSRP – .00180 Base Rate
2011 BMW 335d Diesel Sedan
36 Month – Residual 53% of MSRP – .00190 Base Rate
2012 BMW 128i Coupe
36 Month – Residual 61% of MSRP – .00190 Base Rate
2012 BMW 128i Convertible
36 Month – Residual 62% of MSRP – .00190 Base Rate
2012 BMW 135i Coupe
36 Month – Residual 62% of MSRP – .00190 Base Rate
2012 BMW 135i Convertible
36 Month – Residual 62% of MSRP – .00190 Base Rate
2012 BMW 328i Coupe
36 Month – Residual 61% of MSRP – .00190 Base Rate
2012 BMW 328xi Coupe
36 Month – Residual 62% of MSRP – .00190 Base Rate
2012 BMW 328i Wagon
36 Month – Residual 61% of MSRP – .00180 Base Rate
2012 BMW 328xi Wagon
36 Month – Residual 60% of MSRP – .00190 Base Rate
2012 BMW 328i Convertible
36 Month – Residual 63% of MSRP – .00190 Base Rate
2012 BMW 335i Coupe
36 Month – Residual 61% of MSRP – .00190 Base Rate
2012 BMW 335is Coupe
36 Month – Residual 60% of MSRP – .00190 Base Rate
2012 BMW 335xi Coupe
36 Month – Residual 61% of MSRP – .00190 Base Rate
2012 BMW 335i Convertible
36 Month – Residual 62% of MSRP – .00190 Base Rate
2012 BMW 335is Convertible
36 Month – Residual 62% of MSRP – .00190 Base Rate
2012 BMW 328i Sedan – ALL LINES
36 Month – Residual 62% of MSRP – .00190 Base Rate
2012 BMW 335i Sedan – ALL LINES
36 Month – Residual 62% of MSRP – .00190 Base Rate
2012 BMW M3 Coupe
36 Month – Residual 59% of MSRP – .00190 Base Rate
2012 BMW M3 Convertible
36 Month – Residual 60% of MSRP – .00190 Base Rate
2012 BMW 528i Sedan
36 Month – Residual 58% of MSRP – .00190 Base Rate
2012 BMW 528i xDrive Sedan
36 Month – Residual 59% of MSRP – .00190 Base Rate
2012 BMW 535i Sedan
36 Month – Residual 56% of MSRP – .00185 Base Rate
2012 BMW 535i xDrive Sedan
36 Month – Residual 56% of MSRP – .00185 Base Rate
2012 BMW 550i Sedan
36 Month – Residual 56% of MSRP – .00190 Base Rate
2012 BMW 550i xDrive Sedan
36 Month – Residual 56% of MSRP – .00190 Base Rate
2012 BMW 550i GT xDrive Sedan
36 Month – Residual 60% of MSRP – .00190 Base Rate
2012 BMW 650i Coupe
36 Month – Residual 62% of MSRP – .00190 Base Rate
2012 BMW 650i Convertible
36 Month – Residual 62% of MSRP – .00190 Base Rate
2012 BMW 740i Sedan
36 Month – Residual 63% of MSRP – .00190 Base Rate
2012 BMW 740Li Sedan
36 Month – Residual 63% of MSRP – .00190 Base Rate
2012 BMW 750i Sedan
36 Month – Residual 62% of MSRP – .00190 Base Rate
2012 BMW 750i xDrive Sedan
36 Month – Residual 62% of MSRP – .00190 Base Rate
2012 BMW 750li Sedan
36 Month – Residual 62% of MSRP – .00190 Base Rate
2012 BMW 750li xDrive Sedan
36 Month – Residual 62% of MSRP – .00190 Base Rate
2012 BMW X3 xDrive28i SUV
36 Month – Residual 55% of MSRP – .00190 Base Rate
2012 BMW X3 xDrive35i SUV
36 Month – Residual 55% of MSRP – .00190 Base Rate
2012 BMW X5 xDrive35i Premium SUV
36 Month – Residual 59% of MSRP – .00190 Base Rate
2012 BMW X5 xDrive35d Diesel SUV
36 Month – Residual 56% of MSRP – .00185 Base Rate
2012 BMW X5 xDrive35i Sport Activity SUV
36 Month – Residual 58% of MSRP – .00190 Base Rate
2012 BMW X5 xDrive50i SUV
36 Month – Residual 61% of MSRP – .00190 Base Rate
2012 BMW X5 M SUV
36 Month – Residual 54% of MSRP – .00190 Base Rate
2012 BMW X6 xDrive35i Crossover
36 Month – Residual 60% of MSRP – .00190 Base Rate
2012 BMW X6 xDrive50i Crossover
36 Month – Residual 61% of MSRP – .00190 Base Rate
2012 BMW X6 M Crossover
36 Month – Residual 53% of MSRP – .00190 Base Rate
2012 BMW Z4 sDrive28i
36 Month – Residual 65% of MSRP – .00190 Base Rate
2012 BMW Z4 sDrive35i
36 Month – Residual 65% of MSRP – .00190 Base Rate
2012 BMW Z4 sDrive35is
36 Month – Residual 65% of MSRP – .00190 Base Rate
2013 BMW X3 xDrive28i SUV
36 Month – Residual 55% of MSRP – .00190 Base Rate
2013 BMW X3 xDrive35i SUV
36 Month – Residual 55% of MSRP – .00190 Base Rate
2013 BMW X5 xDrive35i Premium SUV
36 Month – Residual 59% of MSRP – .00190 Base Rate
2013 BMW X5 xDrive35i Sport Activity SUV
36 Month – Residual 58% of MSRP – .00190 Base Rate
2013 BMW X5 xDrive50i SUV
36 Month – Residual 61% of MSRP – .00190 Base Rate
2013 BMW X5 M SUV
36 Month – Residual 54% of MSRP – .00190 Base Rate
2013 BMW X6 xDrive35i Crossover
36 Month – Residual 60% of MSRP – .00190 Base Rate
2013 BMW X6 xDrive50i Crossover
36 Month – Residual 61% of MSRP – .00190 Base Rate
2013 BMW X6 M Crossover
36 Month – Residual 53% of MSRP – .00190 Base Rate
2013 BMW 640i Gran Coupe
36 Month – Residual 62% of MSRP – .00190 Base Rate