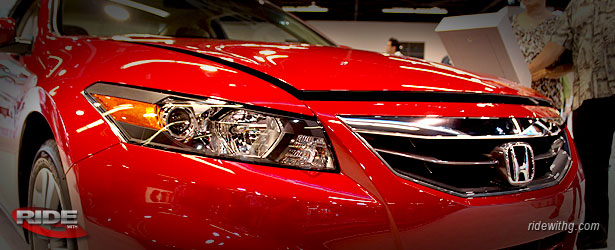 Honda lease rates carry over from March. There is dealer cash available for the Accord, Civic and CrossTour right now, so if you are shopping for either one of these models, you are in luck. Remember that "dealer cash" is not the same thing as "customer cash". Customer cash is for you, the customer. Dealer cash is for the dealer, which they are not required to give you in it's entirety. Generally, dealers will give you a good chunk of it in order to make a sale. That doesn't exactly mean that you can't get the whole thing, though. It never hurts to ask.
Looking below, you will notice an estimate for the Accord Sedan SE. Personally, I think you can do better than that because my calculations do not include the $1250 dealer cash that's available. Hypothetically, I see being able to stay at this monthly payment but with a $0 drive-off instead of paying inception fees upfront.


Here is a sample calculation based on TrueCar's Southern California sale price and do not include local taxes. Please note that your dealer calculations may vary due to local fees/taxes.
2012 HONDA ACCORD SEDAN SE AT
MSRP – $24,700
Sale Price – $22,004
Monthly – $257+ tax
RWG Rating – 93.9


2012 HONDA ACCORD COUPE EX-L V6
36 Month – Residual 50% of MSRP – .00065 Base Rate
2012 HONDA ACCORD SEDAN EX-L V6
36 Month – Residual 52% of MSRP – .00065 Base Rate
2012 HONDA ACCORD SEDAN SE AT
36 Month – Residual 55% of MSRP – .00065 Base Rate
2012 HONDA CIVIC COUPE EX AT
36 Month – Residual 57% of MSRP – .00130 Base Rate
2012 HONDA CIVIC SEDAN EX AT
36 Month – Residual 60% of MSRP – .00130 Base Rate
2012 HONDA CROSSTOUR 2WD V6 EX-L
36 Month – Residual 53% of MSRP – .00084 Base Rate
2012 HONDA CROSSTOUR 4WD V6 EX-L
36 Month – Residual 53% of MSRP – .00084 Base Rate
2012 HONDA FIT SPORT HATCHBACK AT
36 Month – Residual 60% of MSRP – .00185 Base Rate
2012 HONDA ODYSSEY EX-L AT
36 Month – Residual 55% of MSRP – .00115 Base Rate
2012 HONDA PILOT 4WD EX-L
36 Month – Residual 53% of MSRP – .00033 Base Rate
2012 HONDA CR-V 4WD EX-L AT
36 Month – Residual 62% of MSRP – .00185 Base Rate
2012 HONDA CR-Z EX AT
36 Month – Residual 61% of MSRP – .00185 Base Rate
2012 HONDA RIDGELINE RTL
36 Month – Residual 54% of MSRP – .00185 Base Rate