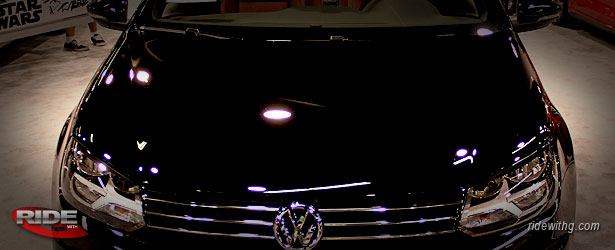 Residuals and MFs have dropped on most models. The 2013 CC's residual stayed the same and also received a 0.00005 reduction in the money factor. Lease cash also got bumped from $500 to $750 for this month.
The estimate below is based on invoice + lease cash. However, I get the feeling that you can probably do dealer cost + lease cash. The CC has historically been leased at below dealer cost because of the lease cash VW has consistently thrown at it.


Here is a sample calculation based on TrueCar's Southern California sale price and do not include local taxes. Please note that your dealer calculations may vary due to local fees/taxes.
2013 VOLKSWAGEN CC SPORT PLUS AT
MSRP – $33,670
Sale Price – $31,573 (invoice + $750 lease bonus cash)
Monthly – $387+ tax
RWG Rating – 87.7


2013 VOLKSWAGEN CC SPORT PLUS AT
36 Month – Residual 53% of MSRP – .00010 Base Rate
2012 VOLKSWAGEN PASSAT 2.5L S W/ APPEARANCE AT
36 Month – Residual 52% of MSRP – .00014 Base Rate
2012 VOLKSWAGEN EOS KOMFORT AT
36 Month – Residual 48% of MSRP – .00002 Base Rate
2012 VOLKSWAGEN GOLF 2DR HATCHBACK AT
36 Month – Residual 49% of MSRP – .00021 Base Rate
2012 VOLKSWAGEN GTI 2DR HATCHBACK AT
36 Month – Residual 52% of MSRP – .00015 Base Rate
2012 VOLKSWAGEN JETTA SEDAN S AT
36 Month – Residual 52% of MSRP – .00054 Base Rate
2012 VOLKSWAGEN JETTA SEDAN SE AT (ALL TRIMS)
36 Month – Residual 51% of MSRP – .00056 Base Rate
2012 VOLKSWAGEN GLI SEDAN AT
36 Month – Residual 51% of MSRP – .00056 Base Rate
2012 VOLKSWAGEN JETTA WAGON S AT
36 Month – Residual 48% of MSRP – .00015 Base Rate
2012 VOLKSWAGEN TOUAREG VR6 SPORT
36 Month – Residual 45% of MSRP – .00001 Base Rate
2012 VOLKSWAGEN TIGUAN S 4MOTION
36 Month – Residual 54% of MSRP – .00066 Base Rate
2012 VOLKSWAGEN ROUTAN S
36 Month – Residual 45% of MSRP – .00007 Base Rate