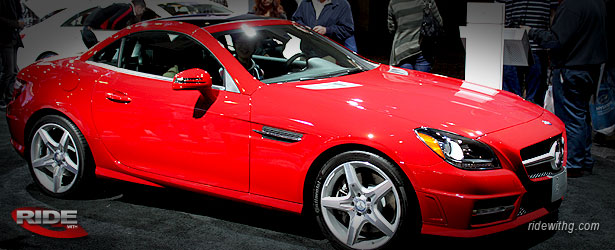 MB has lowered the residual values and money factors of most of their cars. There is also a decent-looking lease on the GL450 at 24-month (the residual is very high at 68%, but the MF is higher than I'd like at .00140). It looks promising so I would recommend crunching some numbers to see how the SUV stacks up with leases of comparable models.
Below, you will see a sample calculation of the C250. The lease has gotten a bit worse using TrueCar data. A shame if you ask me. Expect the C-Coupe to carry a premium for the first year.


Here is a sample calculation based on TrueCar's Southern California sale price and do not include local taxes. Please note that your dealer calculations may vary due to local fees/taxes.
2012 Mercedes C250 2dr Coupe
MSRP – $38,095
Sale Price – $36,731
Monthly – $471+ tax
RWG Rating – 83.2
Support my site by getting your "no obligation" quotes from:
TrueCar
CarsDirect.com
2012 Mercedes C300 4matic Sport 4dr Sedan
36 Month – Residual 56% of MSRP – .00092 Base Rate
2012 Mercedes C250 Sport 4dr Sedan
36 Month – Residual 57% of MSRP – .00153 Base Rate
2012 Mercedes C250 2dr Coupe
36 Month – Residual 64% of MSRP – .00210 Base Rate
2012 Mercedes C350 2dr Coupe
36 Month – Residual 64% of MSRP – .00210 Base Rate
2012 Mercedes CL550 4matic 2dr Coupe
36 Month – Residual 48% of MSRP – .00210 Base Rate
2012 Mercedes CLS550 4matic 4dr Sedan
36 Month – Residual 51% of MSRP – .00145 Base Rate
2012 Mercedes E350 Sport 4matic 4dr Sedan
36 Month – Residual 51% of MSRP – .00126 Base Rate
2012 Mercedes E350 2dr Coupe
36 Month – Residual 58% of MSRP – .00210 Base Rate
2012 Mercedes E350 2dr Convertible
36 Month – Residual 58% of MSRP – .00210 Base Rate
2012 Mercedes GL450 4matic
36 Month – Residual 55% of MSRP – .00140 Base Rate
24 Month – Residual 68% of MSRP – .00140 Base Rate
2012 Mercedes GLK350 4matic
36 Month – Residual 53% of MSRP – .00114 Base Rate
2012 Mercedes ML350 4matic
36 Month – Residual 54% of MSRP – .00150 Base Rate
2012 Mercedes ML350 BLUETEC
36 Month – Residual 60% of MSRP – .00210 Base Rate
2012 Mercedes R350 4matic
36 Month – Residual 52% of MSRP – .00210 Base Rate
2012 Mercedes S550 4matic
36 Month – Residual 49% of MSRP – .00114 Base Rate
2012 Mercedes SL550 Convertible
36 Month – Residual 54% of MSRP – .00165 Base Rate
2012 Mercedes SLK350 Convertible
36 Month – Residual 52% of MSRP – .00145 Base Rate