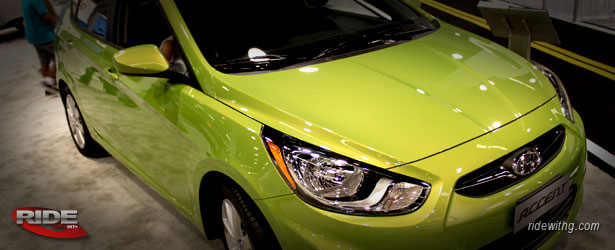 2012 model lease rates remain unchanged. 2013 don't look half bad either. The numbers for the Azera are out and they look average. If you compared it to the Lexus ES350, they aren't too far off from each other. A couple things to be aware of though; Hyundai has bumped the prices to many of their 2013 models significantly. Sure, they remain well equipped, but the price gap between comparable models seems to be dwindling. See stories below:
2013 Hyundai Equus Officially Hits $60,000 Mark, Thanks To Price Hike
2013 Hyundai Elantra Gets Price Hike
2013 Hyundai Accent Gets $2,000 Price Increase
So there you have it, expect to pay more for a Hyundai going forward.
I have mixed feelings because I feel it is a little too early in the game to be jacking up the prices by the thousands (about two years ago, I would have never considered leasing a Hyundai).  Will I get another Hyundai after my Sonata? Probably, but the price advantage is slowly disappearing, which may dissuade me from getting another one down the road.


Here is a sample calculation based on TrueCar's Southern California sale price and do not include local taxes. Please note that your dealer calculations may vary due to local fees/taxes.
2013 HYUNDAI SONATA SE 2.0T
MSRP – $26,620
Sale Price – $24,711 (invoice – $500 loyalty cash applied)
Monthly – $327+ tax
RWG Rating – 83.7
Support my site by getting your "no obligation" quotes from:
TrueCar
CarsDirect.com


2013 HYUNDAI ELANTRA GLS AT
36 Month – Residual 66% of MSRP – .00204 Base Rate
2013 HYUNDAI ACCENT SEDAN GLS AT
36 Month – Residual 56% of MSRP – .00146 Base Rate
2013 HYUNDAI GENESIS COUPE 2.0T AT
36 Month – Residual 65% of MSRP – .00223 Base Rate
2013 HYUNDAI SONATA GLS AT
36 Month – Residual 60% of MSRP – .00223 Base Rate
2013 HYUNDAI SONATA SE 2.0T
36 Month – Residual 61% of MSRP – .00223 Base Rate
2013 HYUNDAI SONATA LIMITED 2.0T
36 Month – Residual 58% of MSRP – .00223 Base Rate
2012 HYUNDAI AZERA SEDAN LIMITED
36 Month – Residual 52% of MSRP – .00094 Base Rate
2012 HYUNDAI GENESIS 3.8L V6
36 Month – Residual 54% of MSRP – .00125 Base Rate
2012 HYUNDAI SANTA FE AWD GLS
36 Month – Residual 51% of MSRP – .00177 Base Rate
2012 HYUNDAI TUCSON AWD GLS
36 Month – Residual 55% of MSRP – .00202 Base Rate
2012 HYUNDAI VELOSTER COUPE AT
36 Month – Residual 55% of MSRP – .00111 Base Rate