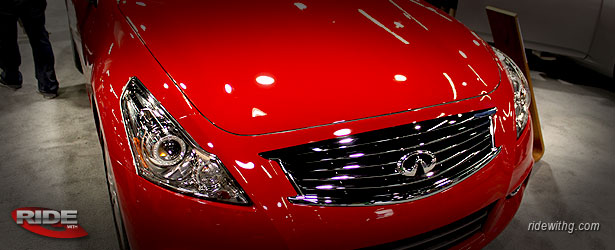 FX models have a MF reduction this month. EX models nearing end of model year so expect the 2013 model to arrive soon (EX will be upped from 35 to 37. Same goes for the G37, as a matter of fact, you might be looking at another two or three months before the 2013s come out. The 2013 G37 model will be the last of this design cycle, since a brand new design will be out for the 2014 model year. The rates look fantastic right now so if you like how the G looks like, its time to lease one. The G25 is being phased out for 2013.
In my estimate below, I would recommend settling at around 13-14% off MSRP but pushing for more initially. The interest charge on this car is so low, it really is a great time lease a G37.


Here is a sample calculation based on TrueCar's Southern California sale price and do not include local taxes. Please note that your dealer calculations may vary due to local fees/taxes.
2012 INFINITI G25 SEDAN JOURNEY
MSRP – $37,295
Sale Price – $32,295
Monthly – $328+ tax
RWG Rating – 106.3
Support my site by getting your "no obligation" quotes from:
TrueCar
CarsDirect.com


2012 INFINITI EX35 AWD JOURNEY
36 Month – Residual 48% of MSRP – .00071 Base Rate
2012 INFINITI FX35 AWD
36 Month – Residual 51% of MSRP – .00031 Base Rate
2012 INFINITI FX50 AWD
36 Month – Residual 48% of MSRP – .00050 Base Rate
2012 INFINITI G37 COUPE IPL AT
36 Month – Residual 51% of MSRP – .00008 Base Rate
2012 INFINITI G37 COUPE JOURNEY
36 Month – Residual 55% of MSRP – .00008 Base Rate
2012 INFINITI G37 COUPE X AWD
36 Month – Residual 56% of MSRP – .00016 Base Rate
2012 INFINITI G37 COUPE SPORT MANUAL
36 Month – Residual 55% of MSRP – .00008 Base Rate
2012 INFINITI G25 SEDAN JOURNEY
36 Month – Residual 55% of MSRP – .00001 Base Rate
2012 INFINITI G25 SEDAN X AWD
36 Month – Residual 56% of MSRP – .00008 Base Rate
2012 INFINITI G37 SEDAN JOURNEY
36 Month – Residual 55% of MSRP – .00009 Base Rate
2012 INFINITI G37 SEDAN X AWD
36 Month – Residual 55% of MSRP – .00001 Base Rate
2012 INFINITI G37 SEDAN SPORT MANUAL
36 Month – Residual 54% of MSRP – .00009 Base Rate
2012 INFINITI M37 SEDAN X AWD
36 Month – Residual 49% of MSRP – .00008 Base Rate
2012 INFINITI M56 SEDAN X AWD
36 Month – Residual 47% of MSRP – .00053 Base Rate
2012 INFINITI M35H SEDAN HYBRID
36 Month – Residual 48% of MSRP – .00021 Base Rate
2012 INFINITI QX56 4WD
36 Month – Residual 52% of MSRP – .00164 Base Rate
2012 INFINITI G37 CONVERTIBLE BASE
36 Month – Residual 54% of MSRP – .00047 Base Rate
2012 INFINITI G37 CONVERTIBLE SPORT 6MT
36 Month – Residual 55% of MSRP – .00047 Base Rate
2013 INFINITI JX35 AWD
36 Month – Residual 60% of MSRP – .00157 Base Rate