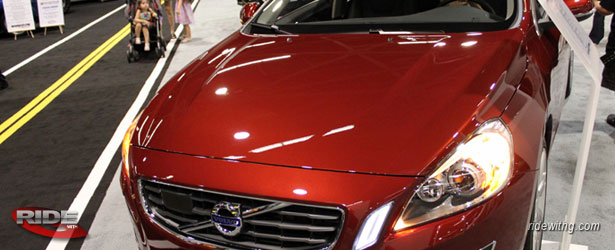 Numbers carry over from June (they were the same as May. That's three months in a row!). There are a few changes to their incentives through.
Conquest, Loyalty and Dealer Cash are all still present
Dealer cash is now $2,000 on C70, $1,500 on 2012 and 2013 XC-90, $1,000 on S60 T-5, $1,500 on S60 T-6, $500 on S80, and $1,000 on XC-60
Volvo has also upped the 2 payment waiver program to 4 payments waived. That's FOUR payments you don't have to pay! YEY!
I may be speaking out of my "you know what", but I am going to go out on a limb and guess that the dealer could potentially discount you up to $1800 (four payments, maxed at $450 per payment) in addition to the dealer cash and conquest/loyalty. See my "hypothetical" numbers below. Remember. this is an assumption, so you need to work these numbers out with your dealer. They have final say, I don't. My job is to highlight what "may" be possible. Best of luck to you all! These numbers look sick (in a good way)!!!
Kudos to Rman for keeping the info coming by way!
Please remember to support the sponsors in an effort to keep the rates and the website going.
Lease rates was made available by the good folks at North Point Volvo. If you are in or near the Alpharetta, GA area and looking for a Volvo, please give them a call.


Here is a sample calculation based on TrueCar's Southern California sale price and do not include local taxes. Please note that your dealer calculations may vary due to local fees/taxes.
2012 S60 T-5 w/ moonroof
MSRP – $34,075
Sale Price – $28,783 (Invoice – $1000 loyalty or conquest applied – $1000 dealer cash – $1800 first FOUR payments, maxed at $450 per payment)
Monthly – $299+ tax
RWG Rating – 106.4
Support my site by getting your "no obligation" quotes from:
TrueCar
CarsDirect.com
For folks in Georgia, contact North Point Volvo in Alpharetta.

2012 C30 T-5
36-month | 15k miles | residual 51% | .00070 base money factor
48-month | 15k miles | residual 43% | .00147 base money factor
2012 C30 T-5 Premier Plus
36-month | 15k miles | residual 50% | .00070 base money factor
48-month | 15k miles | residual 42% | .00147 base money factor
2012 C30 T-5 Platinum
36-month | 15k miles | residual 49% | .00070 base money factor
48-month | 15k miles | residual 41% | .00147 base money factor
2012 C30 T-5 R-Design
36-month | 15k miles | residual 50% | .00070 base money factor
48-month | 15k miles | residual 42% | .00147 base money factor
2012 C30 T-5 R-Design Premier Plus
36-month | 15k miles | residual 49% | .00070 base money factor
48-month | 15k miles | residual 41% | .00147 base money factor
2012 C30 T-5 R-Design Platinum
36-month | 15k miles | residual 48% | .00070 base money factor
48-month | 15k miles | residual 40% | .00147 base money factor
2012 C70 T-5
36-month | 15k miles | residual 51% | .00001 base money factor
48-month | 15k miles | residual 41% | .00065 base money factor
2012 C70 T-5 Premier Plus
36-month | 15k miles | residual 50% | .00001 base money factor
48-month | 15k miles | residual 40% | .00065 base money factor
2012 C70 T-5 Platinum
36-month | 15k miles | residual 48% | .00001 base money factor
48-month | 15k miles | residual 39% | .00065 base money factor
2012 S60 T-5
36-month | 15k miles | residual 53% | .00003 base money factor
48-month | 15k miles | residual 44% | .00086 base money factor
2012 S60 T-6
36-month | 15k miles | residual 50% | .00003 base money factor
48-month | 15k miles | residual 41% | .00081 base money factor
2012 S60 T-6 R-design
36-month | 15k miles | residual 49% | .00003 base money factor
48-month | 15k miles | residual 40% | .00081 base money factor
2012 S80 3.2
36-month | 15k miles | residual 46% | .00001 base money factor
48-month | 15k miles | residual 39% | .001175 base money factor
2012 S80 3.2 Premier Plus
36-month | 15k miles | residual 45% | .00001 base money factor
48-month | 15k miles | residual 38% | .00117 base money factor
2012 S80 3.2 Platinum
36-month | 15k miles | residual 44% | .00001 base money factor
48-month | 15k miles | residual 37% | .00117 base money factor
2012 S80 T-6 Premier Plus
36-month | 15k miles | residual 46% | .00001 base money factor
48-month | 15k miles | residual 39% | .00111 base money factor
2012 S80 T-6 Platinum
36-month | 15k miles | residual 45% | .00001 base money factor
48-month | 15k miles | residual 38% | .00117 base money factor
2012 XC-60 T-6 R-design
36-month | 15k miles | residual 47% | .00028 base money factor
48-month | 15k miles | residual 38% | .000128 base money factor
2012 XC-60 T-6 R-design Premier Plus
36-month | 15k miles | residual 46% | .00028 base money factor
48-month | 15k miles | residual 37% | .00128 base money factor
2012 XC-60 T-6 R-design Platinum
36-month | 15k miles | residual 45% | .00028 base money factor
48-month | 15k miles | residual 36% | .00128 base money factor
2012 XC-60 T-6
36-month | 15k miles | residual 48% | .00035 base money factor
48-month | 15k miles | residual 38% | .00128 base money factor
2012 XC-60 T-6 Premier Plus
36-month | 15k miles | residual 47% | .00035 base money factor
48-month | 15k miles | residual 38% | .00128 base money factor
2012 XC-60 T-6 Platinum
36-month | 15k miles | residual 46% | .00035 base money factor
48-month | 15k miles | residual 37% | .00128 base money factor
2012 XC-60 3.2 AWD
36-month | 15k miles | residual 48% | .00035 base money factor
48-month | 15k miles | residual 38% | .00128 base money factor
2012 XC-60 3.2 AWD Premier
36-month | 15k miles | residual 48% | .00035 base money factor
48-month | 15k miles | residual 37% | .00128 base money factor
2012 XC-60 3.2 AWD Premier Plus
36-month | 15k miles | residual 47% | .00035 base money factor
48-month | 15k miles | residual 36% | .00128 base money factor
2012 XC-60 3.2 AWD Platinum
36-month | 15k miles | residual 46% | .00035 base money factor
48-month | 15k miles | residual 36% | .00128 base money factor
2012 XC-60 3.2 FWD
36-month | 15k miles | residual 46% | .00035 base money factor
48-month | 15k miles | residual 37% | .00128 base money factor
2012 XC-60 3.2 FWD Premier
36-month | 15k miles | residual 46% | .00035 base money factor
48-month | 15k miles | residual 37% | .00128 base money factor
2012 XC-60 3.2 FWD Premier Plus
36-month | 15k miles | residual 45% | .00035 base money factor
48-month | 15k miles | residual 36% | .00128 base money factor
2012 XC-60 3.2 FWD Platinum
36-month | 15k miles | residual 44% | .00035 base money factor
48-month | 15k miles | residual 36% | .00128 base money factor
2012 XC-70 3.2 AWD
36-month | 15k miles | residual 48% | .00035 base money factor
48-month | 15k miles | residual 40% | .00160 base money factor
2012 XC-70 3.2 AWD Premier
36-month | 15k miles | residual 48% | .00035 base money factor
48-month | 15k miles | residual 40% | .00160 base money factor
2012 XC-70 3.2 AWD Premier Plus
36-month | 15k miles | residual 47% | .00035 base money factor
48-month | 15k miles | residual 40% | .00160 base money factor
2012 XC-70 3.2 AWD Platinum
36-month | 15k miles | residual 47% | .00035 base money factor
48-month | 15k miles | residual 39% | .00160 base money factor
2012 XC-70 3.2 FWD
36-month | 15k miles | residual 50% | .00070 base money factor
48-month | 15k miles | residual 42% | .00160 base money factor
2012 XC-70 3.2 FWD Premier
36-month | 15k miles | residual 47% | .00035 base money factor
48-month | 15k miles | residual 40% | .00160 base money factor
2012 XC-70 3.2 FWD Premier Plus
36-month | 15k miles | residual 47% | .00035 base money factor
48-month | 15k miles | residual 40% | .00160 base money factor
2012 XC-70 3.2 FWD Platinum
36-month | 15k miles | residual 46% | .00035 base money factor
48-month | 15k miles | residual 39% | .00160 base money factor
2012 XC-70 T-6
36-month | 15k miles | residual 50% | .00035 base money factor
48-month | 15k miles | residual 41% | .00160 base money factor
2012 XC-70 T-6 Premier Plus
36-month | 15k miles | residual 49% | .00035 base money factor
48-month | 15k miles | residual 40% | .00160 base money factor
2012 XC-70 T-6 Platinum
36-month | 15k miles | residual 48% | .00035 base money factor
48-month | 15k miles | residual 39% | .00160 base money factor
2012 XC-90 3.2 AWD
36-month | 15k miles | residual 49% | .00070 base money factor
48-month | 15k miles | residual 41% | .00175 base money factor
2012 XC-90 3.2 AWD Premier Plus
36-month | 15k miles | residual 48% | .00070 base money factor
48-month | 15k miles | residual 40% | .00175 base money factor
2012 XC-90 3.2 AWD Platinum
36-month | 15k miles | residual 47% | .00070 base money factor
48-month | 15k miles | residual 39% | .00175 base money factor
2012 XC-90 3.2 FWD
36-month | 15k miles | residual 47% | .00070 base money factor
48-month | 15k miles | residual 40% | .00175 base money factor
2012 XC-90 3.2 FWD Premier Plus
36-month | 15k miles | residual 47% | .00070 base money factor
48-month | 15k miles | residual 39% | .00175 base money factor
2012 XC-90 3.2 FWD Platinum
36-month | 15k miles | residual 46% | .00070 base money factor
48-month | 15k miles | residual 38% | .00175 base money factor
2012 XC-90 3.2 AWD R-Design
36-month | 15k miles | residual 48% | .00070 base money factor
48-month | 15k miles | residual 41% | .00175 base money factor
2012 XC-90 3.2 AWD R-Design Premier Plus
36-month | 15k miles | residual 47% | .00070 base money factor
48-month | 15k miles | residual 40% | .00175 base money factor
2012 XC-90 3.2 AWD R-Design Platinum
36-month | 15k miles | residual 46% | .00070 base money factor
48-month | 15k miles | residual 39% | .00175 base money factor
2012 XC-90 3.2 FWD R-Design
36-month | 15k miles | residual 46% | .00070 base money factor
48-month | 15k miles | residual 39% | .00175 base money factor
2012 XC-90 3.2 FWD R-Design Premium Plus
36-month | 15k miles | residual 45% | .00070 base money factor
48-month | 15k miles | residual 38% | .00175 base money factor
2012 XC-90 3.2 FWD R-Design Platinum
36-month | 15k miles | residual 44% | .00070 base money factor
48-month | 15k miles | residual 37% | .00175 base money factor
2013 XC-90 3.2 AWD
36-month | 15k miles | residual 54% | .00130 base money factor
48-month | 15k miles | residual 46% | .00175 base money factor
2013 XC-90 3.2 AWD Premier Plus
36-month | 15k miles | residual 53% | .00130 base money factor
48-month | 15k miles | residual 45% | .00175 base money factor
2013 XC-90 3.2 AWD Platinum
36-month | 15k miles | residual 52% | .00130 base money factor
48-month | 15k miles | residual 44% | .00175 base money factor
2013 XC-90 3.2 FWD
36-month | 15k miles | residual 53% | .00130 base money factor
48-month | 15k miles | residual 45% | .00175 base money factor
2013 XC-90 3.2 FWD Premier Plus
36-month | 15k miles | residual 52% | .00130 base money factor
48-month | 15k miles | residual 44% | .00175 base money factor
2013 XC-90 3.2 FWD Platinum
36-month | 15k miles | residual 51% | .00130 base money factor
48-month | 15k miles | residual 43% | .00175 base money factor
2013 XC-90 3.2 AWD R-Design
36-month | 15k miles | residual 55% | .00130 base money factor
48-month | 15k miles | residual 47% | .00175 base money factor
2013 XC-90 3.2 AWD R-Design Premier Plus
36-month | 15k miles | residual 54% | .00130 base money factor
48-month | 15k miles | residual 46% | .00175 base money factor
2013 XC-90 3.2 AWD R-Design Platinum
36-month | 15k miles | residual 53% | .00130 base money factor
48-month | 15k miles | residual 45% | .00175 base money factor
2013 XC-90 3.2 FWD R-Design
36-month | 15k miles | residual 54% | .00130 base money factor
48-month | 15k miles | residual 46% | .00175 base money factor
2013 XC-90 3.2 FWD R-Design Premium Plus
36-month | 15k miles | residual 53% | .00130 base money factor
48-month | 15k miles | residual 45% | .00175 base money factor
2013 XC-90 3.2 FWD R-Design Platinum
36-month | 15k miles | residual 52% | .00130 base money factor
48-month | 15k miles | residual 44% | .00175 base money factor