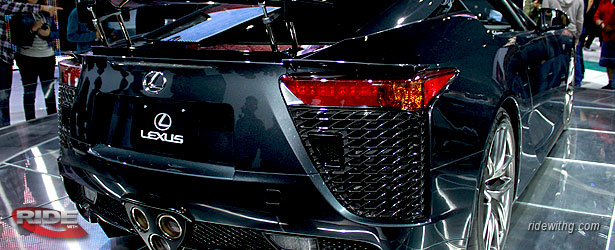 Looks like residuals remain the same, but MFs have dropped. That's good news for those of you who waited. Lexus also has 0.9% financing for 60 months on select models.
July incentives are still in effect, which means Lexus will pick up the 1st month payment on your IS, ES, CT or RX. Good times.


Here is a sample calculation based on TrueCar's Southern California sale price and do not include local taxes. Please note that your dealer calculations may vary due to local fees/taxes.
2012 LEXUS IS250 AT SDN
MSRP – $35840
Sale Price – $32230 (invoice + $1000 graduate cash + $700 first month payment)
Monthly – $351+ tax
RWG Rating – 98.0
Support my site by getting your "no obligation" quotes from:
TrueCar
CarsDirect.com


2012 LEXUS CT200H HYBRID PREMIUM
36 Month – Residual 57% of MSRP – .00145 Base Rate
2012 LEXUS IS250 AT SDN
36 Month – Residual 57% of MSRP – .00045 Base Rate
2012 LEXUS IS250 AWD AT SDN
36 Month – Residual 57% of MSRP – .00045 Base Rate
2012 LEXUS IS250 AT CONV
36 Month – Residual 58% of MSRP – .00145 Base Rate
2012 LEXUS IS350 AWD AT SEDAN
36 Month – Residual 54% of MSRP – .00045 Base Rate
2012 LEXUS IS350 CONV
36 Month – Residual 55% of MSRP – .00145 Base Rate
2012 LEXUS IS-F
36 Month – Residual 53% of MSRP – .00145 Base Rate
2012 LEXUS LS460 AWD
36 Month – Residual 51% of MSRP – .00125 Base Rate
2013 LEXUS ES350
36 Month – Residual 60% of MSRP – .00160 Base Rate
2013 LEXUS GX460
36 Month – Residual 53% of MSRP – .00160 Base Rate
2013 LEXUS GS350 AWD
36 Month – Residual 61% of MSRP – .00145 Base Rate
2013 LEXUS RX350 AWD
36 Month – Residual 59% of MSRP – .00125 Base Rate
2013 LEXUS RX450H AWD
36 Month – Residual 57% of MSRP – .00145 Base Rate
2013 LEXUS LX570
36 Month – Residual 54% of MSRP – .00145 Base Rate