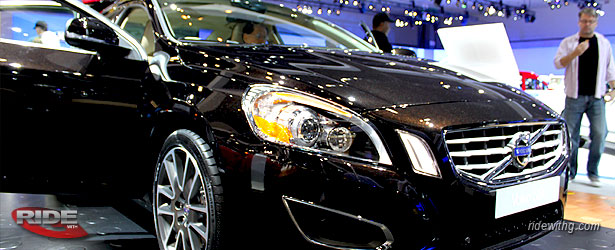 Looks like the awesome Volvo deals have come to an end. No more lease support on the 2012s. Dealer cash is mainly available on the 2012s, not the 2013s. The deals are nowhere near as good as they where a last month with the FOUR payment waiver. However, considering these are 2013s, they rate pretty good (See S60 sample calculation below).
Yes, these numbers came in late. Fortunately, they aren't expected to change next month so you can continue to use them until November.
Lease rates was made available by the good folks at North Point Volvo. If you are in or near the Alpharetta, GA area and looking for a Volvo, please give them a call.


Here is a sample calculation based on TrueCar's Southern California sale price and do not include local taxes. Please note that your dealer calculations may vary due to local fees/taxes.
2013 S60 T-5 Premier
MSRP – $34,845
Sale Price – $31,890 (lowest TrueCar member price)
Monthly – $374+ tax
RWG Rating – 91.8
Support my site by getting your "no obligation" quotes from:
TrueCar
CarsDirect.com
For folks in Georgia, contact North Point Volvo in Alpharetta.


2013 C30 T-5 Premier Plus
36-month | 15k miles | residual 56% | .000178 base money factor
2013 C30 T-5 R-Design Premier Plus
36-month | 15k miles | residual 56% | .00178 base money factor
2013 C70 T-5 Premier Plus
36-month | 15k miles | residual 53% | .00130 base money factor
2013 S60 T-5 Premier
36-month | 15k miles | residual 58%| .00096 base money factor
2013 S60 T-5 Premier Plus
36-month | 15k miles | residual 57% | .00096 base money factor
2013 S60 T-6 Premier Plus
36-month | 15k miles | residual 55% | .00086 base money factor
2013 S60 T-6 R-design Premier Plus
36-month | 15k miles | residual 53% | .00086 base money factor
2013 S80 3.2 Premier Plus
36-month | 15k miles | residual 46% | .00048 base money factor
2013 S80 T-6 Premier Plus
36-month | 15k miles | residual 48% | .00095 base money factor
2013 S80 T-6 Platinum
36-month | 15k miles | residual 49% | .00095 base money factor
2013 XC-60 T-6 R-design Premier Plus
36-month | 15k miles | residual 52% | .00152 base money factor
2013 XC-60 T-6 Premier Plus
36-month | 15k miles | residual 54% | .00152 base money factor
2013 XC-60 3.2 AWD Premier Plus
36-month | 15k miles | residual 50% | .00060 base money factor
2013 XC-60 3.2 FWD Premier Plus
36-month | 15k miles | residual 49% | .00060 base money factor
2013 XC-70 3.2 AWD Premier Plus
36-month | 15k miles | residual 54% | .00178 base money factor
2013 XC-70 T-6 Premier Plus
36-month | 15k miles | residual 56% | .00178 base money factor
2013 XC-90 3.2 AWD Premier Plus
36-month | 15k miles | residual 52% | .00164 base money factor
2013 XC-90 3.2 FWD Premier Plus
36-month | 15k miles | residual 50% | .00146 base money factor
2013 XC-90 3.2 AWD R-Design Premier Plus
36-month | 15k miles | residual 53% | .00164 base money factor
2013 XC-90 3.2 FWD R-Design Premium Plus
36-month | 15k miles | residual 51% | .00146 base money factor