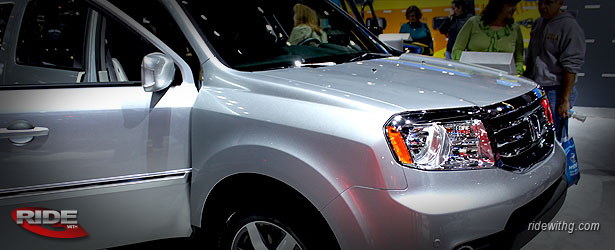 Honda lease rates carry over from November. I am expecting more aggressive sale prices this month since it's year end so be sure to hold out for the better discounts. The lease rates are sound for most models so you should be able to get a decent deal fairly easily. Honda is known for their aggressive lease programs, so I highly recommend them to 1st time lessees.
On a personal note, the wife and I have decided to pick up a Pilot EX 4WD this month. They are a bit tough to find in Southern CA because most people don't need 4WD cars. However, we are thinking long-term and also planning to buy it out at lease end, so it makes a lot of sense. We were cross-shopping the 2013 Pathfinder and the Dodge Durango as well, but ultimately, you get the most bang for the buck with the Pilot. However, using the Lease-To-Own model, the Durango should be the better option. Unfortunately, I cannot afford the payments. Anyway, I don't want to highjack the Honda post with my personal quest for the next ride so expect another post from me as I go through my research and negotiation.


Here is a sample calculation based on TrueCar's Southern California sale price and do not include local taxes. Please note that your dealer calculations may vary due to local fees/taxes.
2013 HONDA PILOT EX 4WD
MSRP – $34100
Sale Price – $30600
Monthly – $330+ tax
RWG Rating – 98.9
Support my site by getting your "no obligation" quotes from:
TrueCar
CarsDirect.com


2013 HONDA ACCORD COUPE EX-L V6
36 Month – Residual 56% of MSRP – .00155 Base Rate
2013 HONDA ACCORD SEDAN EX-L V6
36 Month – Residual 58% of MSRP – .00155 Base Rate
2012 HONDA CIVIC COUPE EX AT
36 Month – Residual 54% of MSRP – .00054 Base Rate
2012 HONDA CIVIC SEDAN EX AT
36 Month – Residual 57% of MSRP – .00054 Base Rate
2013 HONDA CR-V 4WD EX-L AT
36 Month – Residual 60% of MSRP – .00155 Base Rate
2012 HONDA CR-Z EX AT
36 Month – Residual 57% of MSRP – .00155 Base Rate
2012 HONDA CROSSTOUR 4WD EX-L
36 Month – Residual 48% of MSRP – .00020 Base Rate
2013 HONDA FIT SPORT HATCHBACK AT
36 Month – Residual 60% of MSRP – .00155 Base Rate
2013 HONDA INSIGHT EX
36 Month – Residual 62% of MSRP – .00155 Base Rate
2013 HONDA ODYSSEY EX-L AT
36 Month – Residual 53% of MSRP – .00155 Base Rate
2013 HONDA PILOT 4WD EX-L
36 Month – Residual 54% of MSRP – .00022 Base Rate
2013 HONDA RIDGELINE RTL
36 Month – Residual 54% of MSRP – .00155 Base Rate