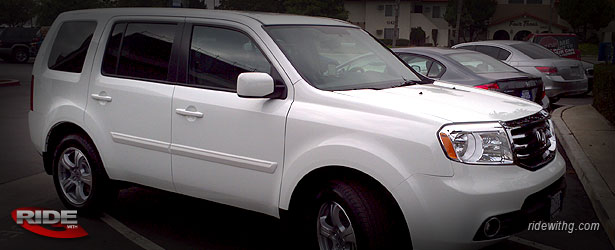 Name: Mrs G
Location: California
What She's Got: White 2013 Honda Pilot EX 4WD
What It Cost:
36-month | 12k miles | residual 58% | .00022 base money factor
MSRP $34100
Sale Price: $30780
Due at signing: $360
Monthly (w/tax): $374
RWG Rating – 98.0
My Take: It was excruciating finding a 4WD EX model here in So Cal. Within a 25 mile radius of my city, there were only TWO EX 4WDs. One was black and the other one was white. There about 5 more EX models out in San Bernardino county with Grey being the other color available besides white and black. Didn't feel like driving a good hour and change, so I tried to negotiate on what's available. I don't want to bad-mouth certain dealers too much, but I have to say, some are just painful to deal with. Internet/Fleet just isn't like it used to be. Many are just floor sales hiding behind a computer. Most can't even give a competitive quote without trying to force you into the dealership or pressure you over the phone. The good news is that there are the occasional few that are so pleasant to deal with and don't require much negotiation. Rock bottom price right off the bat!
Anyway, wife is very happy with her ride. I didn't get all weather mats thrown in this time because I was working on 11 hrs of sleep in the last 48 hrs and I was emotionally drained due to a family situation the night before. Add on the fact that I was negotiating on a car that was as rare as this one, I just didn't have it in me to work the guy for another $260 bucks.
If you need a Honda here in So Cal and want a hassle free experience, let me know. I got a couple guys you should talk to.