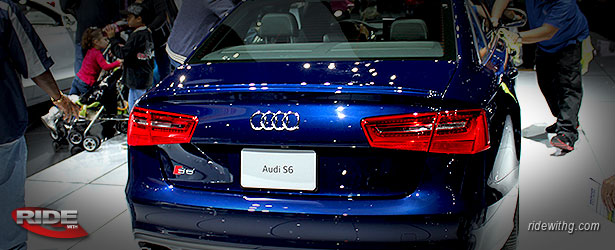 UPDATE: Audi has revised their lease program. Please see below. As far as I can tell. Some residuals have dropped along with the MF. Others only got a MF reduction. Nothing too drastic, but worth noting.
Slight drops in MF and residual but most a good numbers of models stayed the same. Not seeing any cash incentives showing on Edmunds, but I think the financing rates looks quite strong.
One thing still baffles me though…Audis seem to sell well, but surprisingly, even Acura managed to outsell Audi last year. Go figure.
Support my site by getting your "no obligation" quotes from:
TrueCar
CarsDirect.com


2013 AUDI Q5 2.0L PREMIUM
36 Month – Residual 53% of MSRP – .00141 Base Rate
2013 AUDI A3 2.0T QUATTRO PREMIUM AT
36 Month – Residual 53% of MSRP – .00077 Base Rate
2013 AUDI A4 2.0T QUATTRO PREMIUM AT
36 Month – Residual 53% of MSRP – .00069 Base Rate
2013 AUDI A5 2.0T COUPE QUATTRO PREMIUM AT
36 Month – Residual 53% of MSRP – .00104 Base Rate
2013 AUDI A5 2.0T CONVERTIBLE QUATTRO PREMIUM AT
36 Month – Residual 51% of MSRP – .00070 Base Rate
2013 AUDI S4 PREMIUM PLUS AT
36 Month – Residual 53% of MSRP – .00068 Base Rate
2013 AUDI S5 COUPE PREMIUM PLUS AT
36 Month – Residual 54% of MSRP – .00126 Base Rate
2013 AUDI S5 CONVERTIBLE PREMIUM PLUS AT
36 Month – Residual 53% of MSRP – .00092 Base Rate
2013 AUDI RS5 COUPE
36 Month – Residual 50% of MSRP – .00164 Base Rate
2013 AUDI A6 2.0L QUATTRO PREMIUM
36 Month – Residual 53% of MSRP – .00126 Base Rate
2013 AUDI A7 PREMIUM PLUS
36 Month – Residual 53% of MSRP – .00130 Base Rate
2013 AUDI A8 SEDAN 3.0
36 Month – Residual 49% of MSRP – .00072 Base Rate
2013 AUDI ALLROAD PREMIUM
36 Month – Residual 53% of MSRP – .00077 Base Rate
2013 AUDI Q7 3.0L PREMIUM
36 Month – Residual 54% of MSRP – .00146 Base Rate
2013 AUDI Q7 3.0L TDI PREMIUM
36 Month – Residual 55% of MSRP – .00144 Base Rate
2013 AUDI TT 2.0T COUPE QUATTRO PREMIUM PLUS
36 Month – Residual 50% of MSRP – .00071 Base Rate