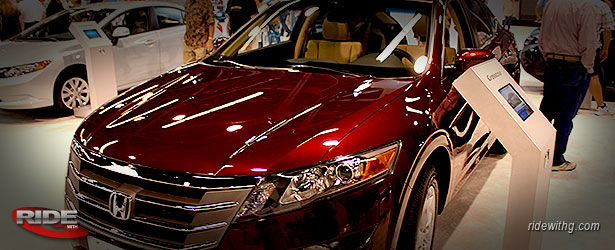 As many of you may have noticed, the wife and I picked up a 2013 Pilot last month. So far, we are very pleased with the SUV and have no complaints. Plenty of cargo room and extremely comfortable. Our sale price ended up about $180 more than what I was hoping for, but under the circumstances (very limited availability), I wasn't about to make a big fuss about it. Overall, a very good lease,  specially considering the 1% drop in residual and increase in money factor this month compared to last.
If you look at Nov/Dec numbers and compare them with this month's numbers, you will noticed some unusual drops and increases in residual value and some drops and increases in money factors as well. The most notable drop is on the Odyssey from .00155 to .00064 while the most notable increase is on the Pilot, which goes from .00022 to .00073.


Here is a sample calculation based on TrueCar's Southern California sale price and do not include local taxes. Please note that your dealer calculations may vary due to local fees/taxes.
Support my site by getting your "no obligation" quotes from:
TrueCar
CarsDirect.com


2013 HONDA ACCORD COUPE EX-L V6
36 Month – Residual 55% of MSRP – .00155 Base Rate
2013 HONDA ACCORD SEDAN EX-L V6
36 Month – Residual 57% of MSRP – .00155 Base Rate
2013 HONDA CIVIC COUPE EX AT
36 Month – Residual 58% of MSRP – .00155 Base Rate
2013 HONDA CIVIC SEDAN EX AT
36 Month – Residual 61% of MSRP – .00155 Base Rate
2013 HONDA CR-V 4WD EX-L AT
36 Month – Residual 60% of MSRP – .00155 Base Rate
2013 HONDA CROSSTOUR 4WD EX-L V6 AT
36 Month – Residual 56% of MSRP – .00155 Base Rate
2013 HONDA FIT SPORT HATCHBACK AT
36 Month – Residual 61% of MSRP – .00155 Base Rate
2013 HONDA INSIGHT EX
36 Month – Residual 61% of MSRP – .00155 Base Rate
2013 HONDA ODYSSEY EX-L AT
36 Month – Residual 52% of MSRP – .00064 Base Rate
2013 HONDA PILOT 4WD EX-L
36 Month – Residual 53% of MSRP – .00073 Base Rate
2013 HONDA RIDGELINE RTL
36 Month – Residual 54% of MSRP – .00155 Base Rate