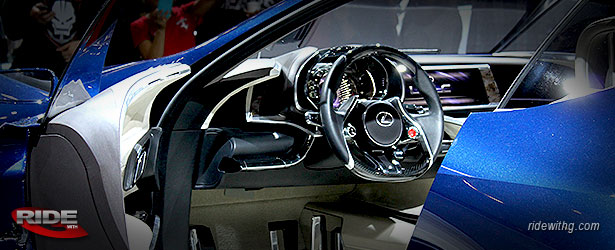 Lexus lease rates have been updated. I received an update today and things have started to look a little better. Hurray for better money factors!
A huge "WTH" goes to LFS for jacking up the MF to .00170 across the board. Yes, there is lease cash available plus Lexus will make your first month payment if you lease one of their vehicles, but still…0.00170 is far from a "great deal" in terms of what you pay out of pocket for borrowing their money. If you end up leasing a Lexus this month, please drop in and share your experience with the rest of the readers.
I know there was this fiasco about the low MF on the CT last month. Please note, I post what I am given. If it's different that what your local dealer is quoting you, then there are probably two possible explanations: 1) I got the wrong numbers OR 2) your dealer is padding the MF. Please conduct your due diligence when using these numbers. If you read my disclaimer, you will know that these numbers are for "reference only". I do not sell cars nor cannot provide you with a loan. Therefore, you dealer has final say in all transactions. Thank you for your understanding.
Support my site by getting your "no obligation" quotes from:


2013 LEXUS CT200H HYBRID PREMIUM
36 Month – Residual 59% of MSRP – .00095 Base Rate
2013 LEXUS IS250 AT SDN
36 Month – Residual 58% of MSRP – .00145 Base Rate
2013 LEXUS IS250 AWD AT SDN
36 Month – Residual 58% of MSRP – .00145 Base Rate
2013 LEXUS IS250 AT CONV
36 Month – Residual 57% of MSRP – .00170 Base Rate
2013 LEXUS IS350 AWD AT SEDAN
36 Month – Residual 55% of MSRP – .00145 Base Rate
2013 LEXUS IS350 CONV
36 Month – Residual 54% of MSRP – .00170 Base Rate
2013 LEXUS IS-F
36 Month – Residual 53% of MSRP – .00170 Base Rate
2013 LEXUS LS460 AWD
36 Month – Residual 55% of MSRP – .00170 Base Rate
2013 LEXUS ES350
36 Month – Residual 58% of MSRP – .00075 Base Rate
2013 LEXUS GX460
36 Month – Residual 51% of MSRP – .00095 Base Rate
2013 LEXUS GS350 AWD
36 Month – Residual 57% of MSRP – .00095 Base Rate
2013 LEXUS RX350 AWD
36 Month – Residual 56% of MSRP – .00075 Base Rate
2013 LEXUS RX450H AWD
36 Month – Residual 54% of MSRP – .00075 Base Rate
2013 LEXUS LX570
36 Month – Residual 51% of MSRP – .00170 Base Rate