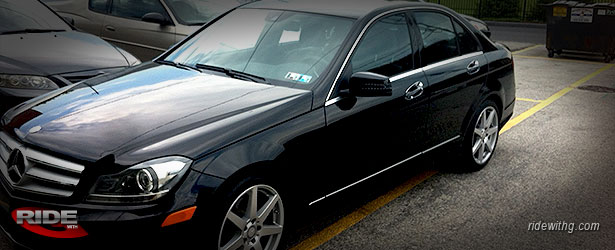 Name: Daniel
Location: PA
What He's Got: 2013 Mercedes C300 4matic
What It Cost:
MSRP: 47,705
Selling Price: 42,415
27 month lease/ 10k per year
Residual: 70%
MF: .00113
Monthly: $488.91 (9% tax included)
Daniel's Take: Car is loaded, black on black MB tex, lighting package, premium package, multimedia package, 18 inch AMG wheels, chrome door handle inserts, etc…
Sign and drive lease, monthly payment is 488.91 including 9% PA sales tax. This car has a great exhaust sound, and feels solid and well made. Still trying to find the best driving position, because the seats are not the best. Overall, super happy with the car!
My Take: Thanks for sharing your info Daniel. Sorry it took me this long to get this posted. The deal is excellent! I'm getting a 101.6 RWG rating which is phenomenal. Congrats on the new ride!!! One of the best MB leases I've seen in a long time!!