I know this post is a bit late since the LA Auto Show is in town and in full swing. I still think it's a good idea to get some pictures and info out there so you can take a look at what's new this coming year. The OC Auto Show isn't exactly the best show in SoCal, but it's good enough to get a feed for what's currently out there. Most people hold out for the LA Show because it's a much more "comprehensive" show than the one in OC. This show seemed more like a giant dealership more than anything. To avoid being repetitive (since I will be posting the LA Auto Show pictures right after this), I will just post the more "unique" photos from this show.
Acura
TL – Small revamp in styling, improved, but not quite the "prom queen".
TSX – Limited Edition is mostly cosmetic changes. A sedan with sport aspirations.
Audi
A7 – Great looking sedan. Top notch interior quality and very unique design. Not sure of I like this one more of the CLS. I really dig what Audi has done with the Nav by integrating Google's Navigation system. If you have ever used Google Nav on Android phones, you will know what I mean. If you haven't, then you are really missing out.
Chevrolet/Cadillac/Buick
Cruze – If you haven't seen the interior of the Cruze, you'll be surprised. This car was at the show last year too, but I can't get over how well Chevy has done with this car's interior. If you have ever rented any Chevy, you'll notice how terrible GM has been when it comes to interior quality.
Corvette – This is one way to get people to buy American…
CTS-V Coupe – My favorite American car. Just love the way the seats just hold you and never lets you go.
Chrysler/Dodge/Jeep
Charger SRT8 – The interior quality has really stepped up significantly. I'm still not crazy about the lines on the doors, but the front and back just looks mean! If I had to pick though, I would probably go with the 300. Less racer boy, more rap mogul.
300 SRT8 – Beats by Dr Dre is truly a sick audio system. It boosts my street cred just sitting in the back seat.
Grand Cherokee – Best looking 5-passenger SUV in my opinion. Quality is still suspect (my friend got one and it has been in the shop twice in less than a year), but it's not surprising since it's a first year model.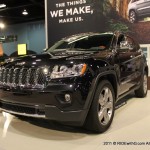 Hyundai
Veloster – Better looking in person…barely. From what I hear, it also looks much sportier than it drives. I would consider one, but only with a Turbo. The interior is nicely laid out, with good ergonamics. It is also feature loaded which makes it that much more attractive. Clearly targeting the 18-24 year-old crowd.
Toyota
Camry – I am NOT a huge Toyota fan right now. Their cares are uninspiring and feel like appliances more than anything else. The incoming Camry is slightly less hideous than the outgoing model, but I still don't see how they will outsell the Sonata.
Volkswagen
Beetle – Redesign and less girly. Still not as iconic as the original.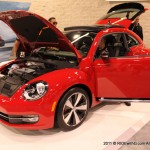 GLI – It's here and the lease rates on this puppy are decent (not great though). Interior quality is still "bleh", but the red-stitching helps.
Tiguan – It got a nose job to fall in line with the rest of it's siblings.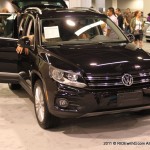 Jetta Star Wars Edition – From a performance perspective, this feels like this….If it were a GLI, it would be more like THIS!
Lexus
GS350 – I've seen enough of the LF-A to last me a while, so only new thing to report here is the newly redesigned GS350. I barely notice the difference except for a more "linear" design and the Audi-wannabe LEDs.
Honda
CR-V – If only they would actually sell this concept and give us an optional beefier engine (turbo4 or small displacement 6) then the 2012 would be forgiven. I guess that's asking for too much innovation.
Nissan
Leaf – If you were wondering how the Leaf looks like inside, here are the pics. If you were wondering how the interior materials feel; it's all hard plastic.
MINI
JCW Cooper Coupe – One thing is for sure, MINI knows how to milk the living crap out of the MINI brand. I am waiting for the MINI Van (pun intended) to show up any minute now.
Land Rover
Evoque – It looks great for a compact crossover. Not sure how comfortable rear passengers will be with such a low roofline, but it really makes owning a crossover cool. I'm not sold on the 2-door model though. The whole point of getting a crossover is to have more practicality, otherwise, I'd get a coupe.
Volvo
S60 – This is the first time I've been so pumped about a Volvo as a lease. I'm not all that crazy about the schnoz of this sedan, but the rest of the car looks great. It is also a very good lease for those of you who are willing to give Volvo a try. I haven't always been open to driving a Volvo (my sister has a few of them and they haven't exactly been reliable), but as a lease, if the car looks good and the numbers look good, any manufacturer is worth a try.