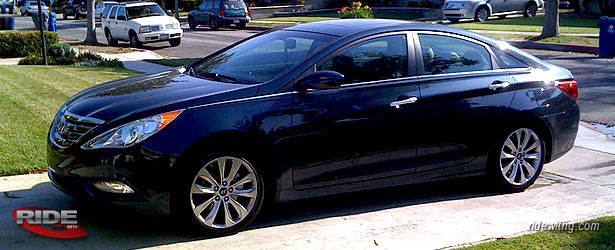 Name: G
Location: California
What He's Got: 2011 Pacific Blue Hyundai Sonata SE 2.0T
The Story:
The decision came down to the 2011 Honda CrossTour or the 2011 Hyundai Sonata Turbo. I was a bit torn because it was a battle between cost (the payments on the CrossTour were about $20 bucks more a month, $364 vs $384) versus practicality. I tried to get Pilot LX 4wd, but they were all sold out. And since the "boss" is a big fan of the Sonata, she pretty much made the final call.
The Deal:
$0 due at signing, $364 per month (with 9.75% tax). The final sale price was $25,893 plus $250 cash (which you have to pay taxes on, so technically only $200). MSRP $28175.  Money factor 0.0056 and residual 58%. The fees breakdown: $425 for dmv, $45 doc fee, $595 bank fee, $25 tax on cash plus other minor local/state fees. No other Hyundai dealer nearby would give me $2k+ below sticker (they wanted MSRP, LOL silly dealers). My preliminary calculations came out to be about $362 per month after taxes, with $0 due at signing. I estimated my drive-off fees to be about $1400. So I was within $2 dollars the dealer's quote. Not bad considering that fact that I had him add all-weather floor mats which only bumped the payments a couple of bucks. Overall, a decent deal, but not as good as Joe02's lease of $311 for the same exact car. Part of the reason mine wasn't as good was due to three factors: 1) higher sale price. 2) higher money factor. 3) lower residual value. My quoted price was about $50 bucks under the best TrueCar price at the time, but still higher than a few months ago.
Quick Review,  One Month Later…
After one month of driving the Sonata, I am pleasantly surprised as to how good the car is. The city MPG not as good as advertised (getting 19 vs 22), but I am still within my "break-in" period so things should improve down the road.
There are a few annoyances though…
Light steering – This isn't even noticeable since 90% of my drive is city. Unfortunately, it is very noticeable when you drive through uneven pavement at high speeds, or when it's windy. Never had that problem with the G-Coupe. Then again, the Coupe was about 400 pounds heavier.
Gas Pump – The gas pump nozzle clicks-off after a few seconds when pumping gas. Very annoying. Gas pumping needs to be done manually and tilted upwards in order to keep the flow continuous. Looks like some warranty work is in order.
Highway MPG as good as advertised. GPS works like a charm. Voice recognition could be better. Plastic paddle-shifters a bit cheap, but does the trick. Seats very comfortable. Solid mid-range power. Spacious trunk.
Final Verdict? It's no sports car, but it will hold me over for the next three years.
Want your ride featured on RIDE with G? Send your pics over to thewall(at)ridewithg.com