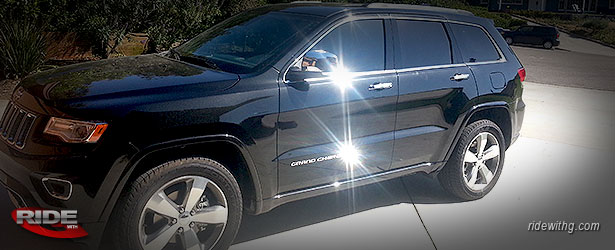 Name: Adam
Location: N/A
What He's Got: 2014 Jeep Grand Cherokee Overland V6 with Advanced Technology Package
What It Cost:
36 month, 12k miles per year, 52% residual, 0.00009583333 money factor (Ally uses interest rate= 0.23%)
Msrp: $48685
Sale price: $43838 with conquest incentive
Fees rolled in including first month payment: $1142.18
Monthly (w/tax): $598
Rwg rating: 88.05 (low due to low residual I think)
Adam's Take: Overall I'm super happy with the deal. Especially the essentially 0 interest. So far I've tinted the front windows to match the factory tints in the back, and I just plasti dipped my wheels black. I also had the dealer leave off the front plates even though California requires them.
My Take: I think the deal is good. 88 RWG is actually not bad and it's within the "leaseable" range. You are right about the residual making the payment higher. But the upside to that is that should you decide to buy out the car, you know most of the payments have gone towards the value of the car, not the interest. I know we've been talking about the possible $2000 turn in fee, so my question is, did you see it in your contract with Ally?