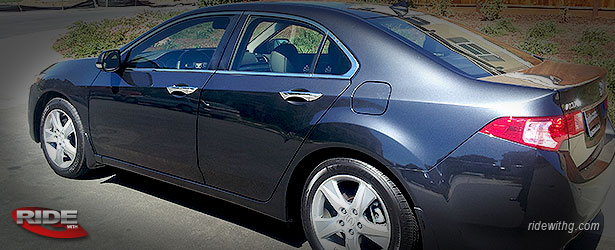 Name: RT
Location: CA
What He's Got: Two 2013 Acura TSX Tech
What It Cost:
Where: Niello Acura from Brian (finance manager) and Chris (sales rep)
MSRP $34505
Sales Price $30,900
MF, .00043
Residual 55%
Term: 36 month at 12K/miles per year..
Extras: Niello threw in the protection package for free (wheel locks, mud flaps, and trunk liner)
Payment: $2000 upfront and $350/month.
Where: Pleasanton Acura from Tom (finance) and Jeff (Sales)
MSRP $34505
Sales Price $31,600
MF .00043
Residual 59%
Term 36 month at 10K/ miles per year
Payment: $2000 upfront and $349/month
RT's Take: I could have done 10k miles for $342/ month but I wanted the lower residual since I WILL go over my mileage AND I am either: keeping the car in 3 years, selling it to my father, or possibly selling it on the open market. The residual price of just under $19k will be thousands under its actual market vale so I am protected on the back end. I also want to point out that this MF was supposedly only good on the special edition, so I feel good about getting it for a Tech model.
LASTLY, I was given a loyalty discount since I purchased a car from them 5 years ago, therefore this deal would be tough to duplicate exactly.
My Take: Your first deal is definitely the better one. Overall, deals were good. Couple words of caution regarding lease-end sales. Make sure you factor in sales tax because unlike the dealer, you need to pay it and the person buying from you needs to as well. Btw, now that you had some time to drive in it. How do you like the TSX and what do you think about Acura's Tech features? Also, what you is your real-world MPG?