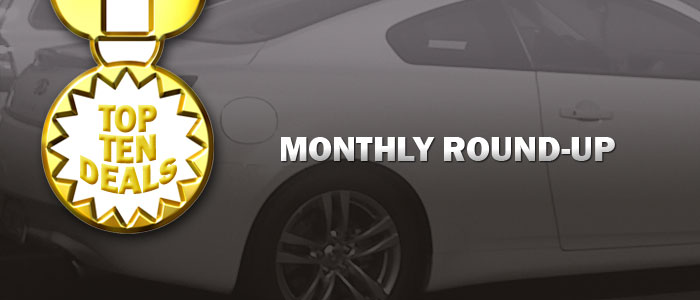 Hey everyone! Welcome back to this month's Round-Up!!! For those who are new to the site, here is a quick explanation of what this Round-Up is all about:
Towards the end of every month, I examine the Top Ten leases based on the information I have collected. This segment is meant for those who enjoy cutting last minute deals in order to get more competitive pricing. Therefore, this column is posted towards the last week of each month.
FYI, according to TrueCar's "TrueTrends Report", the best time to get a car is 9/2/2010. Truecar projects approximately 11.23% discount off MSRP on average. I can't really disagree with that prediction because August deals can still be had in the first few days of a new month, making early Septermber the real "end-of-the-month". Mid-month, is probably the worst time to negotiate on a car, so please take note of that as you plan when to go in for negotiations.
Here are some ground rules that I follow:
Participating vehicles will be based on the lease rates gathered on this website throughout the corresponding month (and limited to a maximum price of $50,000). I encourage you to share the information you've gathered during your research so we can make The Round-Up more complete each month.
Only 36-month/15k lease terms will be examined since it's the ideal lease term.
A $1650 drive-off fee will be assumed for all cars. Remember, this is ONLY an estimate, the drive-off could be lower or higher depending on the car.
Estimates will be based on the Southern California region using Truecar.com data, so your numbers may vary.
All estimates assume you qualify for the base rate. A minimum FICO® Score of 700 may be required.
Sales taxes not included in order to keep things simple. Please refer to "Understanding Sales Tax" to learn how taxes affect your monthly payments.
The rating system used is based on my Lease Calculator, which assumes that 1.09 or a monthly payment of 1.09% off the MSRP (or less) is a GREAT lease deal.
HERE IS THIS MONTH'S ROUND-UP!
2010 Infiniti G37 Sports Coupe

36-month | 15k miles | residual 63% | .00131 base money factor
MSRP $44,595
Sale Price $39,500
Monthly $405 + tax
(0.91) Like last month, the G37 Sport Coupe (manual) is the top lease deal thanks to the $1000 loyalty/conquest rebate, excellent lease rates and aggressive pricing. The rebate helps shave  over $30 bucks per month or cover a good chunk of that inception fee. If this ride is a bit too impractical for you, consider the G37 sedan or the Nissan Maxima SV.
2010 Nissan Altima 3.5 SR Sedan

36-month | 15k miles | residual 56% | .00112 base money factor
MSRP $31,790
Sale Price $26,630
Monthly $323 + tax
(0.93) This doesn't surprise me at all because Nissan is having a HUGE sales event, which is just as insane as VW's if not more. Imagine a fully loaded Altima V6 sedan for around the mid-$300s after taxes (with inception fees due at signing). If you do a $0 drive-off, you'd be paying around the low $400s…still FULLY LOADED! Now that's a pretty sweet deal. The coupe's numbers are not as good so it didn't make the list. However, it can still be a pretty good deal if you play your cards right.
2010 Nissan Maxima SV

36-month | 15k miles | residual 52% | .00047 base money factor
MSRP $37,500
Sale Price $31,296.00
Monthly $351 + tax
(0.94) The Maxima SV is still a great deal this month. Not so much because of the residual/mf combination (because they are only so-so), but because of the massive discounts you can get for that car. Fully loaded model getting over $6000 off the MSRP is insane any way you look at it. If a G37 sedan fully loaded its a bit too pricey for you, it's "uglier" cousin just might do the trick.
2010 Volkswagen Routan SEL w/RSE and NAV

36-month | 15k miles | residual 43% | .00007 base money factor
MSRP $39,400
Sale Price $30,671
Monthly $384 + tax
(0.97) Big families rejoice! If you are shopping for a minivan with the works, the Routan may be for you. Assuming TruCar is not screwing with me on the "sale price", you can knock off almost $9000 off the MSRP, making this a fantastic deal! This actually makes the residual tolerable and can even qualify this van under the "Lease-To-Buy" category! If you managed to get this deal from your local VW dealer, please come back with your comments because I am interested in seeing how you pulled it off or not. If this is still a bit beyond your budget, try the SE trim.
2010 Infiniti Journey G37 Sedan

36-month | 15k miles | residual 59% | .00107 base money factor
MSRP $40,065
Sale Price $35,300
Monthly $387 + tax
(0.97) If the coupe doesn't work for you, opt for the sedan. If you don't know how to drive a "stick", learn. If you don't want to learn, expect to pay more for the Journey or Journey Sport model. Their residuals are lower, so the deal isn't as good.
2010 Honda Accord EX-L Sedan

36-month | 15k miles | residual 54% | .00121 base money factor
MSRP $27,580
Sale Price $22,800
Monthly $279 + tax
(1.01) There should still be a decent selection of Accords out there (saw a ton at my local dealer off the freeway last night). I'm not a huge fan of the exterior, but the interior deserves a lot of credit. I'm just glad Honda didn't cheapen their interiors like Toyota has been doing with their cars.
2010 Volkswagen Jetta S | Limited Sedan

36-month | 15k miles | residual 51% | .00002 base money factor
36-month | 15k miles | residual 54% | .00016 base money factor
MSRP $24,652
Sale Price $21,581
Monthly $250 + tax
(1.02) Some of the Jettas are great deals right now due to the low money factors and decent residual values. Unfortunately, availability could be an issue in some areas since VW is in "clearance" mode right now. The SE trim priced itself out of the "Great Deal" category due to a higher money factor. It is still a good deal, just not a "Great one". The Limited edition model also makes the cut as a "Great Deal", scoring a 1.08 on the rating system.
2010 Acura TSX

36-month | 15k miles | residual 58% | .00100 base money factor
MSRP $30170
Sale Price $27,500
Monthly $322 + tax
(1.07) Availability may be a little bit more of an issue with the TSX. The 2011 should be rolling into dealerships sometime later this year, so what's left of the 2010 is pretty much it. I've driven the 2010 TSX V6 (which isn't as good of a deal) and came away impressed with the handling, power and it's well-appointed interior. The lease payments are a bit higher, but still cheaper than my G37. Overall, this is a very looking sedan with plenty of power for day-to-day driving.
2011 BMW 328i Sedan | 2011 BMW 328xi Sedan

36-month | 15k miles | residual 61% | .00130 base money factor
36-month | 15k miles | residual 61% | .00125 base money factor
MSRP $40,925
Sale Price $38,000
Monthly $440 + tax
(1.08) Making the list (barely) for the first time is the BMW 328. BMWFS is offering "No Security" deposit requirement for the month of August plus their money factors are significantly lower than previous months. For this particular model, I decided to pick the 328xi sedan trim (because its more of an all-season/all region type vehicle than the RWD model) to calculate sample payments. Remember, the deal still requires a sale price close to what's posted. It shouldn't be impossible since the dealer is still making money off the deal at that price point.
2011 Hyundai Sonata Limited

36-month | 15k miles | residual 56% | .00050 base money factor
MSRP $28,200
Sale Price $26,000
Monthly $304 + tax
(1.08) Making the Round-Up for a second consecutive month is the Sonata. I think it looks like a solid deal for those looking to get into a well-equipped sedan. I would probably go with an Accord if you are looking for more refinement, but at this price, the Sonata is still a bargain. The Limited trim probably offers the best value, but if you are on a restricted budget the other trims will do too.  If you are willing to wait, a Hybrid and 4cyl turbo model should roll out some time next year.
Parting Shots
I was going to add the Impreza 2.5i into the list as well, but I was a bit skeptical of the lease rates for a 2010 model (63%/.00140). That seemed a bit high to me. However, if it were true, that would make it a pretty good deal, almost as good as the Jetta S.
I am also a bit bummed out that I couldn't get the 2010 numbers for Audis this month. I was interested in knowing whether the A3 could still stay on the list. I guess we'll never know.
I have again left out Toyotas this month, but not for quality reasons. Instead, I left out Toyotas because their lease rates are regional and they residualize their car's options differently, making it a pain to calculate lease payments. Toyota does have a sales event going on right now with very attractive lease programs, so I recommend check them out if you can get past their recent "quality" issues.
Lastly, I would have liked to see MBZ work a bit harder on their financing. They are great cars and I don't see anything wrong with getting them to be more "accessible" to the public. It's not like they aren't hurting for sales.
Got comments? questions? Disagree with my analysis? Please chime in with your thoughts on what you think this month's Top Ten should be.