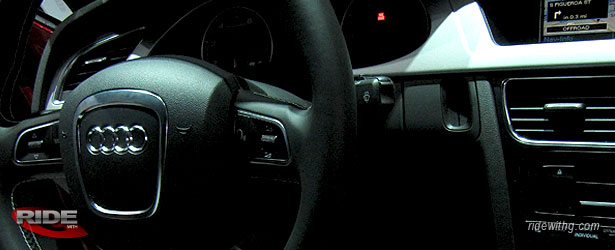 My Take: Like BMW, Audi has carried over November's lease rates into December. This bodes well for us since last month's numbers were actually pretty good for most models.  I think the A3s lease best right now since they enjoy very low money factors and one of the highest residuals in the entire Audi line up. Last month, LeaseCompare (the sponsor of all my Audi posts) was providing fleet discounts ranging from $1000 to $2000 on select models. I don't see why they wouldn't do this again this month, so be sure to inquire about that if you opt to lease through LeaseCompare instead of your local dealer.
For a Dealer Quotes, Click Here.
For a LeaseCompare Quote, Click Here.
---
2011 Audi A3 2.0T TDI Premium
24-month | 15k miles | residual 64% | .00162 base money factor
36-month | 15k miles | residual 57% | .00162 base money factor
48-month | 15k miles | residual 50% | .00182 base money factor
2011 Audi A3 2.0T TDI Premium Plus
24-month | 15k miles | residual 60% | .00162 base money factor
36-month | 15k miles | residual 53% | .00162 base money factor
48-month | 15k miles | residual 46% | .00182 base money factor
2011 Audi A3 2.0T Premium
24-month | 15k miles | residual 61% | .00016 base money factor
36-month | 15k miles | residual 54% | .00016 base money factor
48-month | 15k miles | residual 47% | .00182 base money factor
2011 Audi A3 2.0T Premium Plus
24-month | 15k miles | residual 57% | .00016 base money factor
36-month | 15k miles | residual 50% | .00016 base money factor
48-month | 15k miles | residual 43% | .00182 base money factor
2011 Audi A3 2.0T quattro Premium
24-month | 15k miles | residual 63% | .00071 base money factor
36-month | 15k miles | residual 56% | .00071 base money factor
48-month | 15k miles | residual 49% | .00182 base money factor
2011 Audi A3 2.0T quattro Premium Plus
24-month | 15k miles | residual 58% | .00071 base money factor
36-month | 15k miles | residual 51% | .00071 base money factor
48-month | 15k miles | residual 44% | .00182 base money factor
2011 Audi A4 2.0T Premium Sedan
24-month | 15k miles | residual 60% | .00048 base money factor
36-month | 15k miles | residual 53% | .00048 base money factor
48-month | 15k miles | residual 46% | .00188 base money factor
2011 Audi A4 2.0T Premium Plus Sedan
24-month | 15k miles | residual 56% | .00048 base money factor
36-month | 15k miles | residual 49% | .00048 base money factor
48-month | 15k miles | residual 42% | .00188 base money factor
2011 Audi A4 2.0T Premium quattro Sedan
24-month | 15k miles | residual 61% | .00091 base money factor
36-month | 15k miles | residual 54% | .00091 base money factor
48-month | 15k miles | residual 47% | .00188 base money factor
2011 Audi A4 2.0T Premium Plus quattro Sedan
24-month | 15k miles | residual 58% | .00091 base money factor
36-month | 15k miles | residual 51% | .00091 base money factor
48-month | 15k miles | residual 44% | .00188 base money factor
2011 Audi A4 2.0T Prestige quattro Sedan
24-month | 15k miles | residual 54% | .00091 base money factor
36-month | 15k miles | residual 47% | .00091 base money factor
48-month | 15k miles | residual 40% | .00188 base money factor
2011 Audi A4 2.0T Premium quattro Avant
24-month | 15k miles | residual 62% | .00120 base money factor
36-month | 15k miles | residual 55% | .00120 base money factor
48-month | 15k miles | residual 48% | .00188 base money factor
2011 Audi A4 2.0T Premium Plus quattro Avant
24-month | 15k miles | residual 59% | .00120 base money factor
36-month | 15k miles | residual 52% | .00120 base money factor
48-month | 15k miles | residual 45% | .00188 base money factor
2011 Audi A4 2.0T Prestige quattro Avant
24-month | 15k miles | residual 55% | .00120 base money factor
36-month | 15k miles | residual 48% | .00120 base money factor
48-month | 15k miles | residual 41% | .00188 base money factor
2011 Audi S4 Premium Plus Sedan
24-month | 15k miles | residual 62% | .00150 base money factor
36-month | 15k miles | residual 55% | .00150 base money factor
48-month | 15k miles | residual 48% | .00188 base money factor
2011 Audi S4 Prestige Sedan
24-month | 15k miles | residual 58% | .00150 base money factor
36-month | 15k miles | residual 51% | .00150 base money factor
48-month | 15k miles | residual 44% | .00188 base money factor
2011 Audi A5 2.0T Premium
24-month | 15k miles | residual 65% | .00154 base money factor
36-month | 15k miles | residual 58% | .00154 base money factor
48-month | 15k miles | residual 51% | .00186 base money factor
2011 Audi A5 2.0T Premium Plus
24-month | 15k miles | residual 61% | .00154 base money factor
36-month | 15k miles | residual 54% | .00154 base money factor
48-month | 15k miles | residual 47% | .00186 base money factor
2011 Audi A5 2.0T Prestige
24-month | 15k miles | residual 57% | .00154 base money factor
36-month | 15k miles | residual 50% | .00154 base money factor
48-month | 15k miles | residual 43% | .00186 base money factor
2011 Audi A5 2.0T Premium Convertible
24-month | 15k miles | residual 63% | .00122 base money factor
36-month | 15k miles | residual 56% | .00122 base money factor
48-month | 15k miles | residual 49% | .00186 base money factor
2011 Audi A5 2.0T Premium Plus Convertible
24-month | 15k miles | residual 58% | .00122 base money factor
36-month | 15k miles | residual 51% | .00122 base money factor
48-month | 15k miles | residual 44% | .00186 base money factor
2011 Audi A5 2.0T Prestige Convertible
24-month | 15k miles | residual 55% | .00122 base money factor
36-month | 15k miles | residual 48% | .00122 base money factor
48-month | 15k miles | residual 41% | .00186 base money factor
2011 Audi A5 2.0T quattro Premium Convertible
24-month | 15k miles | residual 64% | .00141 base money factor
36-month | 15k miles | residual 57% | .00141 base money factor
48-month | 15k miles | residual 50% | .00186 base money factor
2011 Audi A5 2.0T quattro Premium Plus Convertible
24-month | 15k miles | residual 59% | .00141 base money factor
36-month | 15k miles | residual 52% | .00141 base money factor
48-month | 15k miles | residual 45% | .00186 base money factor
2011 Audi A5 2.0T quattro Prestige Convertible
24-month | 15k miles | residual 56% | .00141 base money factor
36-month | 15k miles | residual 49% | .00141 base money factor
48-month | 15k miles | residual 42% | .00186 base money factor
2011 Audi S5 Premium Plus
24-month | 15k miles | residual 63% | .00166 base money factor
36-month | 15k miles | residual 56% | .00166 base money factor
48-month | 15k miles | residual 49% | .00186 base money factor
2011 Audi S5 Prestige
24-month | 15k miles | residual 62% | .00166 base money factor
36-month | 15k miles | residual 55% | .00166 base money factor
48-month | 15k miles | residual 48% | .00186 base money factor
2011 Audi S5 Premium Plus Convertible
24-month | 15k miles | residual 62% | .00166 base money factor
36-month | 15k miles | residual 55% | .00166 base money factor
48-month | 15k miles | residual 48% | .00186 base money factor
2011 Audi S5 Prestige Convertible
24-month | 15k miles | residual 58% | .00166 base money factor
36-month | 15k miles | residual 51% | .00166 base money factor
48-month | 15k miles | residual 44% | .00186 base money factor
2011 Audi A6 3.0L quattro Premium Sedan
24-month | 15k miles | residual 54% | .00017 base money factor
36-month | 15k miles | residual 47% | .00017 base money factor
48-month | 15k miles | residual 40% | .00208 base money factor
2011 Audi A6 3.0L quattro Premium Plus Sedan
24-month | 15k miles | residual 55% | .00017 base money factor
36-month | 15k miles | residual 48% | .00017 base money factor
48-month | 15k miles | residual 41% | .00208 base money factor
2011 Audi A6 3.0L quattro Prestige Sedan
24-month | 15k miles | residual 53% | .00017 base money factor
36-month | 15k miles | residual 46% | .00017 base money factor
48-month | 15k miles | residual 39% | .00208 base money factor
2011 Audi A6 3.2L Premium Sedan
24-month | 15k miles | residual 55% | .00046 base money factor
36-month | 15k miles | residual 48% | .00046 base money factor
48-month | 15k miles | residual 41% | .00208 base money factor
2011 Audi A6 3.2L Premium Plus Sedan
24-month | 15k miles | residual 55% | .00046 base money factor
36-month | 15k miles | residual 48% | .00046 base money factor
48-month | 15k miles | residual 41% | .00208 base money factor
2011 Audi A6 4.2L Prestige Sedan
24-month | 15k miles | residual 51% | .00062 base money factor
36-month | 15k miles | residual 44% | .00062 base money factor
48-month | 15k miles | residual 37% | .00208 base money factor
2011 Audi A6 3.0L quattro Premium Avant
24-month | 15k miles | residual 54% | .00102 base money factor
36-month | 15k miles | residual 47% | .00102 base money factor
48-month | 15k miles | residual 40% | .00208 base money factor
2011 Audi A6 3.0L quattro Premium Plus Avant
24-month | 15k miles | residual 54% | .00102 base money factor
36-month | 15k miles | residual 47% | .00102 base money factor
48-month | 15k miles | residual 40% | .00208 base money factor
2011 Audi A6 3.0L quattro Prestige Avant
24-month | 15k miles | residual 53% | .00102 base money factor
36-month | 15k miles | residual 46% | .00102 base money factor
48-month | 15k miles | residual 39% | .00208 base money factor
2011 Audi S6 Prestige Sedan
24-month | 15k miles | residual 54% | .00188 base money factor
36-month | 15k miles | residual 47% | .00188 base money factor
48-month | 15k miles | residual 40% | .00208 base money factor
2011 Audi A8 Sedan
24-month | 15k miles | residual 51% | .00110 base money factor
36-month | 15k miles | residual 44% | .00110 base money factor
48-month | 15k miles | residual 37% | .00191 base money factor
2011 Audi A8 LWB Sedan
24-month | 15k miles | residual 52% | .00109 base money factor
36-month | 15k miles | residual 45% | .00109 base money factor
48-month | 15k miles | residual 38% | .00191 base money factor
2011 Audi R8 4.2L Coupe
24-month | 15k miles | residual 44% | .00223 base money factor
36-month | 15k miles | residual 33% | .00223 base money factor
48-month | 15k miles | residual 22% | .00243 base money factor
2011 Audi R8 4.2L Spyder
24-month | 15k miles | residual 45% | .00223 base money factor
36-month | 15k miles | residual 34% | .00223 base money factor
48-month | 15k miles | residual 24% | .00243 base money factor
2011 Audi R8 5.2L Coupe
24-month | 15k miles | residual 46% | .00223 base money factor
36-month | 15k miles | residual 36% | .00223 base money factor
48-month | 15k miles | residual 26% | .00243 base money factor
2011 Audi R8 5.2L Spyder
24-month | 15k miles | residual 47% | .00223 base money factor
36-month | 15k miles | residual 37% | .00223 base money factor
48-month | 15k miles | residual 27% | .00243 base money factor
2011 Audi Q5 2.0L Premium
24-month | 15k miles | residual 59% | .00149 base money factor
36-month | 15k miles | residual 52% | .00149 base money factor
48-month | 15k miles | residual 45% | .00187 base money factor
2011 Audi Q5 2.0L Premium Plus
24-month | 15k miles | residual 55% | .00149 base money factor
36-month | 15k miles | residual 48% | .00149 base money factor
48-month | 15k miles | residual 41% | .00187 base money factor
2011 Audi Q5 3.2L Premium Plus
24-month | 15k miles | residual 56% | .00143 base money factor
36-month | 15k miles | residual 49% | .00143 base money factor
48-month | 15k miles | residual 42% | .00167 base money factor
2011 Audi Q5 3.2L Prestige
24-month | 15k miles | residual 52% | .00143 base money factor
36-month | 15k miles | residual 45% | .00143 base money factor
48-month | 15k miles | residual 38% | .00187 base money factor
2011 Audi Q7 3.0 Premium
24-month | 15k miles | residual 60% | .00189 base money factor
36-month | 15k miles | residual 53% | .00189 base money factor
48-month | 15k miles | residual 46% | .00217 base money factor
2011 Audi Q7 3.0 Premium Plus
24-month | 15k miles | residual 57% | .00189 base money factor
36-month | 15k miles | residual 50% | .00189 base money factor
48-month | 15k miles | residual 43% | .00209 base money factor
2011 Audi Q7 3.0 Premium S line
24-month | 15k miles | residual 54% | .00189 base money factor
36-month | 15k miles | residual 47% | .00189 base money factor
48-month | 15k miles | residual 40% | .00209 base money factor
2011 Audi Q7 3.0 TDI Premium
24-month | 15k miles | residual 62% | .00189 base money factor
36-month | 15k miles | residual 55% | .00189 base money factor
48-month | 15k miles | residual 48% | .00209 base money factor
2011 Audi Q7 3.0 TDI Premium Plus
24-month | 15k miles | residual 59% | .00189 base money factor
36-month | 15k miles | residual 52% | .00189 base money factor
48-month | 15k miles | residual 45% | .00209 base money factor
2011 Audi Q7 3.0 TDI Prestige
24-month | 15k miles | residual 54% | .00189 base money factor
36-month | 15k miles | residual 47% | .00189 base money factor
48-month | 15k miles | residual 40% | .00209 base money factor
2011 Audi TTS 2.0T quattro Premium Plus Coupe
24-month | 15k miles | residual 55% | .00090 base money factor
36-month | 15k miles | residual 48% | .00090 base money factor
48-month | 15k miles | residual 41% | .00197 base money factor
2011 Audi TTS 2.0T quattro Prestige Coupe
24-month | 15k miles | residual 54% | .00090 base money factor
36-month | 15k miles | residual 47% | .00090 base money factor
48-month | 15k miles | residual 40% | .00197 base money factor
2011 Audi TTS 2.0T quattro Premium Plus Cabriolet
24-month | 15k miles | residual 56% | .00093 base money factor
36-month | 15k miles | residual 49% | .00093 base money factor
48-month | 15k miles | residual 42% | .00197 base money factor
2011 Audi TTS 2.0T quattro Prestige Cabriolet
24-month | 15k miles | residual 55% | .00093 base money factor
36-month | 15k miles | residual 48% | .00093 base money factor
48-month | 15k miles | residual 41% | .00197 base money factor
---
Lease rates provided by
LeaseCompare.com
Audi Incentives from Edmunds.com