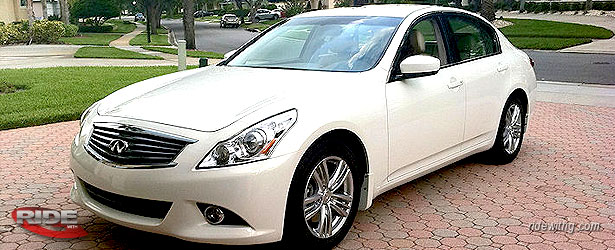 Name: Spicy Mikey
Location: Florida
The RIDE: 2011 Moonlight White Infiniti G37 Journey Sedan
The DEAL:
G37 Journey Sedan
White/Wheat
Premium Package, Navigation Package, Interior Accent package, Splash Guards
MSRP $41675 ($300 of extras paid in cash).
Acq Fee $700
Cap Cost $38250
MF 60%
Residual .00109
39mo/15k
Payment $455 tax inc
Sold 2009 Lexus IS250 at CarMax for $2100. Applied $1300 for inception fees. Pocketed $800.
WE LOVE CARMAX!
My TAKE:
Wow Mike, you are a tough act to follow. Not only are you getting a bunch of cash from your trade-ins, but your kids are getting some fancy rides. Love the deal you got at CarMax. They are a lessee's best friend! Even if you didn't go below invoice (plus your dealer fee was insane), I think everyone would agree that the lease was still darn good. Congrats. Wishing your daughter lots of luck with that wheat interior…it's gonna be a tough one to keep clean. I would know. Haahaa.
On another note, your kids got the whole Spy vs Spy things going on. Hilarious! Haahaa.
Want your ride featured on RIDE with G? Send your pics over to thewall(at)ridewithg.com