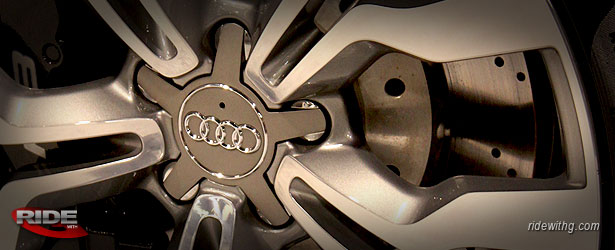 It seems all Audi's got a drop in residual value (1-2%). They also received a MF adjustment to compensate for the loss in residual. There is one exception, the Q7 got a slight bump on the MF. Not I understand the logic there.
I'm going to switch gears this month and switch my sample calculation to the A4 (instead of the A3). In SoCal, TrueCar indicates a sale price of about 3% off MSRP before any incentives are applied. Audi is offering customer cash in a variety of ways:
$1500 loyalty cash for retail purchases.
$1000 new owner cash. I think this is similar to a conquest cash…restrictions do apply.
$750 loyalty cash for leases.
On a different note, you can get 1.9% financing on the A4 up to 5 years. The lease MF is practically the same 0.00080 x 2400 = 1.92% so there isn't much of an advantage to buy.


Here is a sample calculation based on TrueCar's Southern California sale price and do not include local taxes. Please note that your dealer calculations may vary due to local fees/taxes.
2012 AUDI A4 2.0T QUATTRO PREMIUM AT
MSRP – $35,475
Sale Price – $33,593 ($750 loyalty lease cash applied)
Monthly – $453+ tax
RWG Rating – 81.5


2012 AUDI A3 2.0T QUATTRO PREMIUM AT
36 Month – Residual 52% of MSRP – .00089 Base Rate
2012 AUDI A4 2.0T QUATTRO PREMIUM AT
36 Month – Residual 53% of MSRP – .00080 Base Rate
2012 AUDI A5 2.0T COUPE QUATTRO PREMIUM AT
36 Month – Residual 53% of MSRP – .00122 Base Rate
2012 AUDI A5 2.0T CONVERTIBLE QUATTRO PREMIUM AT
36 Month – Residual 52% of MSRP – .00075 Base Rate
2012 AUDI A6 3.0L QUATTRO PREMIUM
36 Month – Residual 48% of MSRP – .00070 Base Rate
2012 AUDI A6 3.0L QUATTRO PREMIUM PLUS
36 Month – Residual 48% of MSRP – .00070 Base Rate
2012 AUDI A7 PREMIUM PLUS
36 Month – Residual 50% of MSRP – .00143 Base Rate
2012 AUDI A8 SEDAN
36 Month – Residual 44% of MSRP – .00057 Base Rate
2012 AUDI Q5 2.0L PREMIUM
36 Month – Residual 50% of MSRP – .00136 Base Rate
2012 AUDI Q7 3.0L PREMIUM
36 Month – Residual 51% of MSRP – .00162 Base Rate
2012 AUDI Q7 3.0L TDI PREMIUM
36 Month – Residual 53% of MSRP – .00160 Base Rate
2012 AUDI S4 PREMIUM PLUS AT
36 Month – Residual 55% of MSRP – .00062 Base Rate
2012 AUDI S5 COUPE PREMIUM PLUS AT
36 Month – Residual 56% of MSRP – .00099 Base Rate
2012 AUDI S5 CONVERTIBLE PREMIUM PLUS AT
36 Month – Residual 55% of MSRP – .00104 Base Rate
2012 AUDI TT 2.0T COUPE QUATTRO PREMIUM PLUS
36 Month – Residual 50% of MSRP – .00034 Base Rate