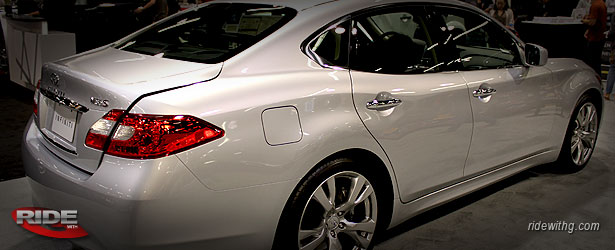 Oddly enough, IFS seems to have re-evaluated the residual values on many of their models because I am seeing an uptick on residual values this month. Of course, MFs were adjusted in order to keep payments around the same as before. I am also seeing the 18 month lease term with on the G which has an extremely high residual and a very attractive money factor. Looks like Infinitis are still the best leases around.
Edmunds $2000 visa cash card promo. Need I say more?


Here is a sample calculation based on TrueCar's Southern California sale price and do not include local taxes. Please note that your dealer calculations may vary due to local fees/taxes.
2012 INFINITI G37 SEDAN JOURNEY
MSRP – $37,295
Sale Price – $33,000 (target of $1000 under invoice + $1000 loyalty cash)
Monthly – $337+ tax
RWG Rating – 104.1
Support my site by getting your "no obligation" quotes from:
TrueCar
CarsDirect.com


2012 INFINITI EX35 AWD JOURNEY
36 Month – Residual 51% of MSRP – .00120 Base Rate
2012 INFINITI FX35 AWD
36 Month – Residual 52% of MSRP – .00050 Base Rate
2012 INFINITI FX50 AWD
36 Month – Residual 49% of MSRP – .00069 Base Rate
2012 INFINITI G37 COUPE IPL AT
36 Month – Residual 52% of MSRP – .00026 Base Rate
2012 INFINITI G37 COUPE JOURNEY
36 Month – Residual 56% of MSRP – .00026 Base Rate
2012 INFINITI G37 COUPE X AWD
36 Month – Residual 57% of MSRP – .00034 Base Rate
2012 INFINITI G37 COUPE SPORT MANUAL
36 Month – Residual 56% of MSRP – .00026 Base Rate
2012 INFINITI G25 SEDAN JOURNEY
36 Month – Residual 56% of MSRP – .00001 Base Rate
18 Month – Residual 75% of MSRP – .00001 Base Rate
2012 INFINITI G25 SEDAN X AWD
36 Month – Residual 57% of MSRP – .00010 Base Rate
18 Month – Residual 76% of MSRP – .00027 Base Rate
2012 INFINITI G37 SEDAN JOURNEY
36 Month – Residual 56% of MSRP – .00001 Base Rate
2012 INFINITI G37 SEDAN X AWD
36 Month – Residual 57% of MSRP – .00011 Base Rate
18 Month – Residual 76% of MSRP – .00028 Base Rate
2012 INFINITI G37 SEDAN SPORT MANUAL
36 Month – Residual 55% of MSRP – .00001 Base Rate
2012 INFINITI M37 SEDAN X AWD
36 Month – Residual 50% of MSRP – .00014 Base Rate
2012 INFINITI M56 SEDAN X AWD
36 Month – Residual 48% of MSRP – .00060 Base Rate
2012 INFINITI M35H SEDAN HYBRID
36 Month – Residual 49% of MSRP – .00023 Base Rate
2012 INFINITI QX56 4WD
36 Month – Residual 51% of MSRP – .00145 Base Rate
2012 INFINITI G37 CONVERTIBLE BASE
36 Month – Residual 55% of MSRP – .00034 Base Rate
2012 INFINITI G37 CONVERTIBLE SPORT 6MT
36 Month – Residual 55% of MSRP – .00034 Base Rate
2013 INFINITI JX35 AWD
36 Month – Residual 60% of MSRP – .00156 Base Rate