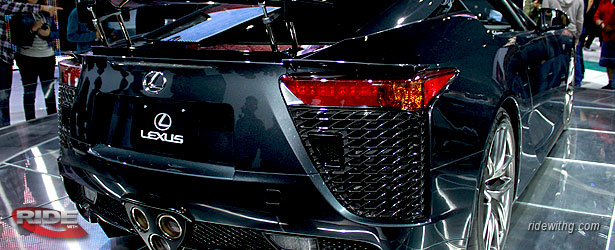 This month's numbers are improved from last month. However, that's not to say they are great (they are okay if you stick with the IS250). The MF has come down some what, but could still use a little bit more of a drop. The IS250 is looking like the best deal in terms of Residual/MF combination.


Here is a sample calculation based on TrueCar's Southern California sale price and do not include local taxes. Please note that your dealer calculations may vary due to local fees/taxes.
2011 Lexus IS250 AT Sedan
MSRP – $34,190
Sale Price – $30,608
Monthly – $379 + tax
RWG Rating – 89.85
For Dealer Quotes, Click Here.


Lexus lease specials:
2011 Lexus IS250 AWD AT (MSRP: $37,070)
Monthly: $397 + TAX
Term: 36 months
Mileage: 10k/year
$0 cap cost reduction with 1st month, bank fee, and motor vehicle fee due
*If current Lexus customer, price drops to $367 per month


2011 LEXUS ES350
36month | 15k miles | residual 55% | .00175 base money factor
2011 LEXUS GS350 AWD
36month | 15k miles | residual 52% | .00150 base money factor
2011 LEXUS GS450h
36month | 15k miles | residual 50% | .00150 base money factor
2011 LEXUS GS460
36month | 15k miles | residual 50% | .00150 base money factor
2011 LEXUS GX460
36month | 15k miles | residual 51% | .00175 base money factor
2011 LEXUS GX460 PREMIUM
36month | 15k miles | residual 51% | .00175 base money factor
2011 LEXUS HS250H
36month | 15k miles | residual 51% | .00210 base money factor
2011 LEXUS HS250H PREMIUM
36month | 15k miles | residual 51% | .00210 base money factor
2011 LEXUS IS250 AT SDN
36month | 15k miles | residual 59% | .00175 base money factor
2011 LEXUS IS250 AWD AT SDN
36month | 15k miles | residual 59% | .00175 base money factor
2011 LEXUS IS250 AT CONV
36month | 15k miles | residual 59% | .00185 base money factor
2011 LEXUS IS350 AWD AT SEDAN
36month | 15k miles | residual 55% | .00175 base money factor
2011 LEXUS IS350 CONV
36month | 15k miles | residual 56% | .00185 base money factor
2011 LEXUS IS-F
36month | 15k miles | residual 53% | .00210 base money factor
2011 LEXUS LS460
36month | 15k miles | residual 52% | .00190 base money factor
2011 LEXUS LS460 AWD
36month | 15k miles | residual 52% | .00190 base money factor
2011 LEXUS LX570
36month | 15k miles | residual 50% | .00210 base money factor
2011 LEXUS RX350 AWD
36month | 15k miles | residual 55% | .00170 base money factor
2011 LEXUS RX450H AWD
36month | 15k miles | residual 54% | .00150 base money factor