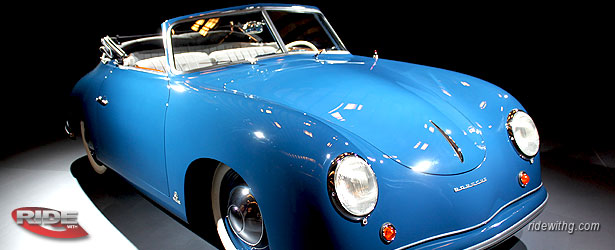 The Cayenne is probably not the most attractive lease out there right now, which explains the crummy RWG rating. The residual is okay, but the MF could use some dropping. In addition, a measly $1300 discount on a nearly $50,000 ride is just not enough to justify leasing one. I would recommend shopping for a more attractive lease loan or maybe using a brokers to see if they can beat the dealer price. Alternatively, you could always wait since it's still early in the year.
On an unrelated note, how do you like the pic for this post? I believe it's a pristine 1953 Porsche 356 Roadster. I'm not a huge classic cars guy, but I truly appreciate the uniqueness of something like this.


Here is a sample calculation based on TrueCar's Southern California sale price and do not include local taxes. Please note that your dealer calculations may vary due to local fees/taxes.
2011 Porsche Cayenne Manual
MSRP – $47,675
Sale Price – $46,325
Monthly – $690+ tax
RWG Rating – 75.04
For Dealer Quotes, Click Here.


This month's lease rates have been brought to you by LeaseCompare.


2011 Porsche Cayenne Manual
24month | 15k miles | residual 60% | .00198 base money factor
36month | 15k miles | residual 56% | .00198 base money factor
48month | 15k miles | residual 46% | .00240 base money factor
60month | 15k miles | residual 39% | .00240 base money factor
2011 Porsche Cayenne Tiptronic
24month | 15k miles | residual 60% | .00198 base money factor
36month | 15k miles | residual 56% | .00198 base money factor
48month | 15k miles | residual 46% | .00240 base money factor
60month | 15k miles | residual 39% | .00240 base money factor
2011 Porsche Cayenne S Tiptronic
24month | 15k miles | residual 56% | .00219 base money factor
36month | 15k miles | residual 52% | .00219 base money factor
48month | 15k miles | residual 42% | .00240 base money factor
60month | 15k miles | residual 35% | .00240 base money factor
2011 Porsche Cayenne Turbo
24month | 15k miles | residual 52% | .00219 base money factor
36month | 15k miles | residual 45% | .00219 base money factor
48month | 15k miles | residual 38% | .00240 base money factor
60month | 15k miles | residual 31% | .00240 base money factor