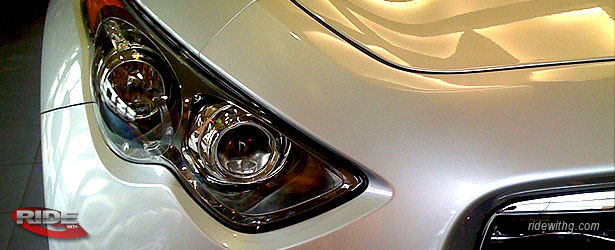 As expected, Infiniti residuals have pretty much dropped across the board. The good news is that IFS did adjust the money factors to keep the payments at around the same range as last month. Not how the G25 is looking like the more expensive lease compared to the G37 Journey sedan. I suspect this is going to make leasing a 25 or a 37 a tough decision. Haahaa. Anyway, there are rebates available so be sure to ask your dealer about them.
Almost the entire Infiniti line-up leases well, so if you aren't looking at the Gs, the Ms, FXs and EXs aren't too terrible either.


Here is a sample calculation based on TrueCar's Southern California sale price and do not include local taxes. Please note that your dealer calculations may vary due to local fees/taxes.
2011 Infiniti G25 Sedan Journey
MSRP – $33,675
Sale Price – $30,087
Monthly – $319+ tax
RWG Rating – 100.6
2011 Infiniti G37 Sedan Journey
MSRP – $36,275
Sale Price – $31,232
Monthly – $317+ tax
RWG Rating – 106.7
For Dealer Quotes, Click Here.



2011 INFINITI G37 COUPE IPL AT
36 month | 15k miles | residual 59% | .00121 base money factor
2011 INFINITI G25 SEDAN JOURNEY
36 month | 15k miles | residual 61% | .00106 base money factor
2011 INFINITI G25 SEDAN X AWD
36 month | 15k miles | residual 62% | .00111 base money factor
2011 INFINITI G37 SEDAN JOURNEY
36 month | 15k miles | residual 59% | .00084 base money factor
2011 INFINITI G37 SEDAN X AWD
36 month | 15k miles | residual 61% | .00107 base money factor
2011 INFINITI G37 SEDAN SPORT MANUAL
36 month | 15k miles | residual 59% | .00084 base money factor
2011 INFINITI G37 COUPE BASE
36 month | 15k miles | residual 66% | .00121 base money factor
2011 INFINITI G37 COUPE JOURNEY
36 month | 15k miles | residual 63% | .00121 base money factor
2011 INFINITI G37 COUPE X AWD
36 month | 15k miles | residual 63% | .00113 base money factor
2011 INFINITI G37 COUPE SPORT MANUAL
36 month | 15k miles | residual 63% | .00121 base money factor
2011 INFINITI EX35 AWD
36 month | 15k miles | residual 60% | .00141 base money factor
2011 INFINITI EX35 AWD JOURNEY
36 month | 15k miles | residual 56% | .00141 base money factor
2011 INFINITI FX35 AWD
36 month | 15k miles | residual 55% | .00110 base money factor
2011 INFINITI FX50 AWD
36 month | 15k miles | residual 52% | .00127 base money factor
2011 INFINITI G37 CONVERTIBLE BASE
36 month | 15k miles | residual 61% | .00180 base money factor
2011 INFINITI G37 CONVERTIBLE SPORT 6MT
36 month | 15k miles | residual 62% | .00180 base money factor
2011 INFINITI M37 SEDAN X AWD
36 month | 15k miles | residual 54% | .00036 base money factor
2011 INFINITI M56 SEDAN X AWD
36 month | 15k miles | residual 51% | .00088 base money factor
2011 INFINITI QX56 4WD
36 month | 15k miles | residual 55% | .00220 base money factor