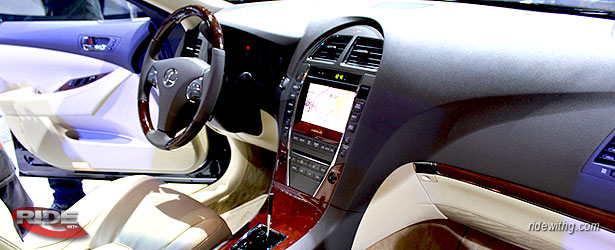 Money Factors have dropped across the board on all Lexus models. That's good news because they haven't been very good in the past few months. Residual values remain the same with the exception of the IS250 Convertible. That car gets a 1% residual boost this month. Overall? A better month, but still not a great one. Sale prices are hovering around 6% to 8% off MSRP, which isn't too bad, but it's no Infiniti or Acura, but it's comparable to BMW's 3-series and better than Audi.


Here is a sample calculation based on TrueCar's Southern California sale price and do not include local taxes. Please note that your dealer calculations may vary due to local fees/taxes.
2011 Lexus IS250 AT Sedan
MSRP – $35,340
Sale Price – $32,911
Monthly – $413+ tax
RWG Rating – 86.6
For Dealer Quotes, Click Here.



2011 LEXUS ES350
36 month | 15k miles | residual 56% | .00145 base money factor
2011 LEXUS GS350 AWD
36 month | 15k miles | residual 53% | .00130 base money factor
2011 LEXUS GS460
36 month | 15k miles | residual 51% | .00130 base money factor
2011 LEXUS GX460
36 month | 15k miles | residual 53% | .00185 base money factor
2011 LEXUS HS250H
36 month | 15k miles | residual 54% | .00185 base money factor
2011 LEXUS IS250 AT SDN
36 month | 15k miles | residual 59% | .00145 base money factor
2011 LEXUS IS250 AWD AT SDN
36 month | 15k miles | residual 59% | .00145 base money factor
2011 LEXUS IS250 AT CONV
36 month | 15k miles | residual 60% | .00185 base money factor
2011 LEXUS IS350 AWD AT SEDAN
36 month | 15k miles | residual 56% | .00170 base money factor
2011 LEXUS IS350 CONV
36 month | 15k miles | residual 57% | .00185 base money factor
2011 LEXUS IS-F
36 month | 15k miles | residual 55% | .00185 base money factor
2011 LEXUS LS460
36 month | 15k miles | residual 53% | .00185 base money factor
2011 LEXUS LS460 AWD
36 month | 15k miles | residual 53% | .00185 base money factor
2011 LEXUS LX570
36 month | 15k miles | residual 52% | .00185 base money factor
2011 LEXUS RX350 AWD
36 month | 15k miles | residual 57% | .00140 base money factor
2011 LEXUS RX450H AWD
36 month | 15k miles | residual 56% | .00185 base money factor