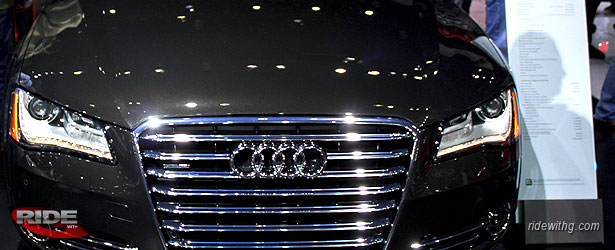 No good deals can be had on the 2012 Audis this month. If you are looking to lease one, expect to have a subpar deal. As I have pointed out in the past. The only way to get a good deal is to have a low sale price, high residual and low money factor. Sometimes, if the sale price is low enough, it can offset poor residual values or high money factors.
If you don't see what you are looking for, contact your local dealer for more information.


Here is a sample calculation based on TrueCar's Southern California sale price and do not include local taxes. Please note that your dealer calculations may vary due to local fees/taxes.
2012 AUDI A3 2.0T QUATTRO PREMIUM AT
MSRP – $31,725
Sale Price – $30,352
Monthly – $418+ tax
RWG Rating – 79.7
For Dealer Quotes, Click Here.



2012 AUDI A3 2.0T QUATTRO PREMIUM AT
36 Month – Residual 56% of MSRP – .00143 Base Rate
2012 AUDI A4 2.0T QUATTRO PREMIUM AT
36 Month – Residual 56% of MSRP – .00151 Base Rate
2012 AUDI A5 2.0T COUPE QUATTRO PREMIUM AT
36 Month – Residual 56% of MSRP – .00161 Base Rate
2012 AUDI A5 2.0T CONVERTIBLE QUATTRO PREMIUM AT
36 Month – Residual 55% of MSRP – .00156 Base Rate
2012 AUDI A6 3.0L QUATTRO PREMIUM
36 Month – Residual 52% of MSRP – .00145 Base Rate
2012 AUDI A7 PREMIUM PLUS
36 Month – Residual 52% of MSRP – .00158 Base Rate
2012 AUDI A8 SEDAN
36 Month – Residual 47% of MSRP – .00116 Base Rate
2012 AUDI Q5 2.0L PREMIUM
36 Month – Residual 53% of MSRP – .00159 Base Rate
2012 AUDI Q7 3.0L PREMIUM
36 Month – Residual 55% of MSRP – .00157 Base Rate
2012 AUDI Q7 3.0L TDI PREMIUM
36 Month – Residual 56% of MSRP – .00167 Base Rate
2012 AUDI S4 PREMIUM PLUS AT
36 Month – Residual 58% of MSRP – .00154 Base Rate
2012 AUDI S5 COUPE PREMIUM PLUS AT
36 Month – Residual 59% of MSRP – .00163 Base Rate
2012 AUDI S5 CONVERTIBLE PREMIUM PLUS AT
36 Month – Residual 58% of MSRP – .00158 Base Rate
2012 AUDI TT 2.0T QUATTRO PREMIUM PLUS
36 Month – Residual 53% of MSRP – .00090 Base Rate