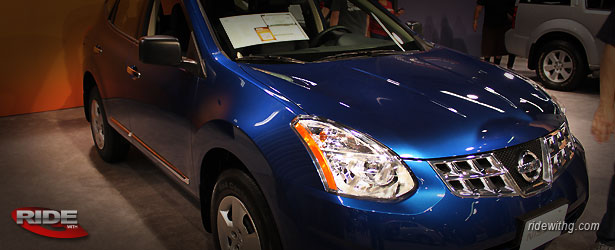 Some residual changes are in effect this month. MF has also changed. One notable drop in MF is on the Leaf. It went from 0.00175 to 0.00071 which is huge in my opinion. There is also $7,500 in lease cash and there is also $500 for recent college grads. Not sure if the graduation cash can be used with the lease cash, but I wouldn't be surprised if you could since there isn't anything stating otherwise on Edmunds' incentive page. See below for a sample calculation. If you are currently shopping for a Leaf, please share your experiences. Thanks!
Nissans are leasing well this month still. The Altima's MF seems to have gone up a bit and I am not seeing the special 24-month lease anymore. I still think sale prices should remain aggressive for remaining inventory so stay aggressive with your negotiations. On another note, Jon just leased a Sentra SR, you can see his comments here. $199.81 monthly (with tax) + $391 at drive-off. 95 RWG rating. 39 months, 15k miles per year.


Here is a sample calculation based on TrueCar's Southern California sale price and do not include local taxes. Please note that your dealer calculations may vary due to local fees/taxes.
2012 NISSAN LEAF 5DR HATCHBACK SV
MSRP – $36,050
Sale Price – $28,550 ($7500 lease cash applied to MSRP)
Monthly – $374 + tax
RWG Rating – 94.1


2012 NISSAN MAXIMA S
36 Month – Residual 56% of MSRP – .00063 Base Rate
2012 NISSAN ALTIMA SEDAN S CVT
36 Month – Residual 51% of MSRP – .00059 Base Rate
2012 NISSAN ALTIMA COUPE S CVT
36 Month – Residual 51% of MSRP – .00003 Base Rate
2012 NISSAN LEAF 5DR HATCHBACK SV
36 Month – Residual 45% of MSRP – .00071 Base Rate
2012 NISSAN SENTRA 2.0SR CVT
36 Month – Residual 58% of MSRP – .00053 Base Rate
2012 NISSAN VERSA 4DR SEDAN S AT
36 Month – Residual 53% of MSRP – .00210 Base Rate
2012 NISSAN JUKE 2WD S AT
36 Month – Residual 51% of MSRP – .00161 Base Rate
2012 NISSAN MURANO AWD S
36 Month – Residual 51% of MSRP – .00024 Base Rate
2012 NISSAN ROGUE AWD S
36 Month – Residual 53% of MSRP – .00053 Base Rate
2012 NISSAN PATHFINDER S 4WD
36 Month – Residual 49% of MSRP – .00003 Base Rate
2012 NISSAN CUBE 5DR WAGON S CVT
36 Month – Residual 46% of MSRP – .00210 Base Rate