Many of you have probably seen TV/Internet advertisements promoting "incredibly cheap" lease payments on premium vehicles such as BMW, Mercedes, Audi and Infiniti (to name a few). I am also willing to bet that many of you – who otherwise wouldn't be in the market for a new car – were probably enticed by those ads as well. If those low payments have peaked your interest then some marketing guru just earned their paycheck.
These ads have one simple goal – to get you interested. Does it mean it's that cheap? In most cases, it's not. In the world of auto leasing, potential lessee must understand two things… 1) The less you put down, the better. After all, you have to return your car at lease end, so why give away so much of your hard-earned money? 2) Options, fees and individual tax situations can change the deal from a seemingly "good deal" to a "bad"one.
Lets examine Mercedes Benz's "Special Lease" offer on the C300 Sport…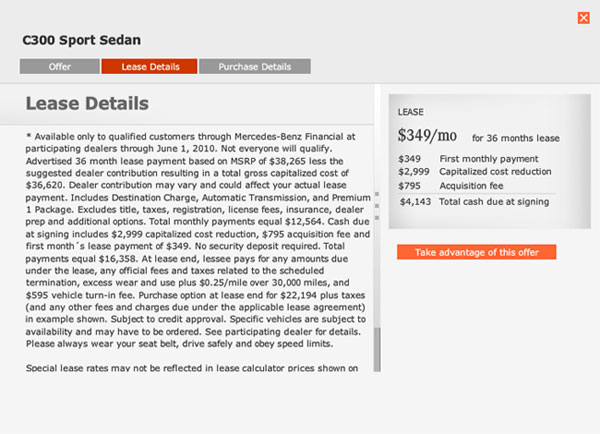 The ad states a $349/mo lease payment, exclusive of sales tax. In Los Angeles county, we pay around 10% tax. So that $349/mo payment, its more like $390/mo. Next, we have the obligatory "first month" payment, which is due at signing. Then, the deal requires that you "contribute" roughly $3000, to bring down the payments to that "$349/mo" range. Now lets talk fees. More often than not, the bank will charge you an acquisition fee, in this case, it is $795. This fee covers the processing fee of applying for a lease loan and it typically covers the GAP insurance as well. I say typically because not all banks offer that (i.e. Toyota require that you pay extra). At most MBZ dealerships, the bank fee is usually bumped to $1095 (a $300 mark-up) for the bank acquisition. Is that legal? Yup, it sure is. Dealers are allowed to impose any fees they want and they can also mark up the money factor, therefore, it is your job to filter out the phony ones from the legitimate ones.
In the end, your out-of-pocket will end up being roughly $4200 due at signing. Also keep in mind that ad doesn't include sales tax on the fees you are paying, DMV registration, county and state fees. In the end, you would be looking at $5000 out of pocket, $349/mo + tax. Not as good as it used to sound, does it?
The Right Way to Lease
The proper way to lease a vehicle is not too different from buying a car. You have to negotiate a sale price. Do not negotiate payments unless you know what how much you SHOULD be paying. Payment negotiation should be left to those who have pre-calculated their payments in advance. If you are relatively new to leasing, try breaking down the numbers one by one so you know what you are paying for. For more information check out my Guide To Auto Leasing.