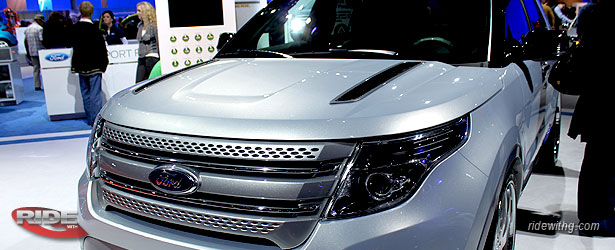 My first impression on the Explorer's numbers is that it isn't half bad. I've seen much worse. However, getting a good deal here ultimately comes down to the final sale price, which is (at best) only a 4% discount from MSRP here in Southern California. Not very good if you ask me. I didn't expect the Explorer to lease well since the Edge isn't that much better. If Ford were to discount around 10% instead, I could see this being a better lease. Until that happens, I would recommend looking elsewhere for your next SUV.


Here is a sample calculation based on TrueCar's Southern California sale price and do not include local taxes. Please note that your dealer calculations may vary due to local fees/taxes.
2011 Ford Explorer Base 4WD
MSRP – $30,995
Sale Price – $29,785
Monthly – $416+ tax
RWG Rating – 78.83
For Dealer Quotes, Click Here.


This month's lease rates have been brought to you by LeaseCompare.


2011 Ford Explorer Base 4WD
24month | 15k miles | residual 62% | .00031 base money factor
36month | 15k miles | residual 53% | .00115 base money factor
48month | 15k miles | residual 45% | .00229 base money factor
2011 Ford Explorer XLT 4WD
24month | 15k miles | residual 63% | .00031 base money factor
36month | 15k miles | residual 54% | .00115 base money factor
48month | 15k miles | residual 44% | .00229 base money factor
2011 Ford Explorer Limited 4WD
24month | 15k miles | residual 63% | .00031 base money factor
36month | 15k miles | residual 54% | .00115 base money factor
48month | 15k miles | residual 44% | .00229 base money factor