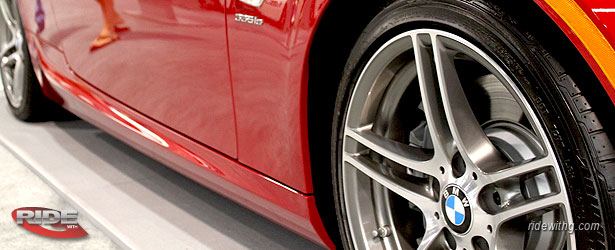 Some unusual adjustments were made by BMWFS this month. Some models received a bump in residual value (and increase in money factor), while others received a drop on the money factor (residuals remained the same). Looking at 1 and 3 series, it looks like the 128 is getting a little bit more of a discount (135i went a bit) while the 3 series seems to have gone up slightly.
Overall, I would say that BMW leases this month are somewhat hit-n-miss. I personally prefer having high residual and low mf. But if I can't get that, I would rather have a lower residual and a low mf than a high residual with a high mf. This way, should I choose to buy the car at the end of my lease, my payoff will be lower. That rarely happens, but it's always nice to have that option.
Speaking of BMWs…this past weekend, some punk kids in a 330i convertible decided to irritate me by cutting me off as we approach a stop light (which was odd since the lane next to me was open). Then they decided to further annoy me (for their own entertainment I guess) by driving 25mph as the light turned green. As I attempted to drive by them, they sped up…seriously…some people have nothing better to do with their time.


Here is a sample calculation based on TrueCar's Southern California sale price and do not include local taxes. Please note that your dealer calculations may vary due to local fees/taxes.
2011 BMW 328i Sedan
MSRP – $34,525
Sale Price – $32,335
Monthly – $414+ tax
RWG Rating – 85.0
2011 BMW 128i Coupe
MSRP – $30,325
Sale Price – $27,470
Monthly – $344+ tax
RWG Rating – 88.3
For Dealer Quotes, Click Here.


This month's lease rates have been brought to you by LeaseCompare.


2011 BMW 128i Coupe
24 month | 15k miles | residual 64% | .00120 base money factor
36 month | 15k miles | residual 56% | .00120 base money factor
48 month | 15k miles | residual 39% | .00200 base money factor
60 month | 15k miles | residual 30% | .00200 base money factor
2011 BMW 128i Convertible
24 month | 15k miles | residual 64% | .00120 base money factor
36 month | 15k miles | residual 56% | .00120 base money factor
48 month | 15k miles | residual 41% | .00200 base money factor
60 month | 15k miles | residual 32% | .00200 base money factor
2011 BMW 135i Coupe
24 month | 15k miles | residual 64% | .00120 base money factor
36 month | 15k miles | residual 56% | .00120 base money factor
48 month | 15k miles | residual 41% | .00200 base money factor
60 month | 15k miles | residual 33% | .00200 base money factor
2011 BMW 135i Convertible
24 month | 15k miles | residual 64% | .00120 base money factor
36 month | 15k miles | residual 56% | .00120 base money factor
48 month | 15k miles | residual 41% | .00200 base money factor
60 month | 15k miles | residual 32% | .00200 base money factor
2011 BMW 328i Coupe
24 month | 15k miles | residual 70% | .00190 base money factor
36 month | 15k miles | residual 61% | .00190 base money factor
48 month | 15k miles | residual 43% | .00200 base money factor
60 month | 15k miles | residual 35% | .00200 base money factor
2011 BMW 328xi Coupe
24 month | 15k miles | residual 70% | .00190 base money factor
36 month | 15k miles | residual 61% | .00190 base money factor
48 month | 15k miles | residual 41% | .00200 base money factor
60 month | 15k miles | residual 33% | .00200 base money factor
2011 BMW 328i Sedan
24 month | 15k miles | residual 71% | .00190 base money factor
36 month | 15k miles | residual 61% | .00190 base money factor
48 month | 15k miles | residual 42% | .00200 base money factor
60 month | 15k miles | residual 34% | .00200 base money factor
2011 BMW 328xi Sedan
24 month | 15k miles | residual 71% | .00200 base money factor
36 month | 15k miles | residual 62% | .00200 base money factor
48 month | 15k miles | residual 41% | .00200 base money factor
60 month | 15k miles | residual 33% | .00200 base money factor
2011 BMW 328i Wagon
24 month | 15k miles | residual 71% | .00175 base money factor
36 month | 15k miles | residual 61% | .00175 base money factor
48 month | 15k miles | residual 37% | .00200 base money factor
60 month | 15k miles | residual 30% | .00200 base money factor
2011 BMW 328xi Wagon
24 month | 15k miles | residual 72% | .00190 base money factor
36 month | 15k miles | residual 63% | .00190 base money factor
48 month | 15k miles | residual 38% | .00200 base money factor
60 month | 15k miles | residual 31% | .00200 base money factor
2011 BMW 328i Convertible
24 month | 15k miles | residual 63% | .00105 base money factor
36 month | 15k miles | residual 57% | .00105 base money factor
48 month | 15k miles | residual 43% | .00200 base money factor
60 month | 15k miles | residual 34% | .00200 base money factor
2011 BMW 335i Coupe
24 month | 15k miles | residual 69% | .00195 base money factor
36 month | 15k miles | residual 60% | .00195 base money factor
48 month | 15k miles | residual 40% | .00200 base money factor
60 month | 15k miles | residual 32% | .00200 base money factor
2011 BMW 335is Coupe
24 month | 15k miles | residual 68% | .00190 base money factor
36 month | 15k miles | residual 59% | .00190 base money factor
48 month | 15k miles | residual 38% | .00200 base money factor
60 month | 15k miles | residual 31% | .00200 base money factor
2011 BMW 335xi Coupe
24 month | 15k miles | residual 69% | .00200 base money factor
36 month | 15k miles | residual 60% | .00200 base money factor
48 month | 15k miles | residual 39% | .00200 base money factor
60 month | 15k miles | residual 32% | .00200 base money factor
2011 BMW 335i Sedan
24 month | 15k miles | residual 69% | .00200 base money factor
36 month | 15k miles | residual 61% | .00200 base money factor
48 month | 15k miles | residual 38% | .00200 base money factor
60 month | 15k miles | residual 31% | .00200 base money factor
2011 BMW 335xi Sedan
24 month | 15k miles | residual 67% | .00190 base money factor
36 month | 15k miles | residual 59% | .00190 base money factor
48 month | 15k miles | residual 37% | .00200 base money factor
60 month | 15k miles | residual 30% | .00200 base money factor
2011 BMW 335d Diesel Sedan
24 month | 15k miles | residual 65% | .00185 base money factor
36 month | 15k miles | residual 56% | .00185 base money factor
48 month | 15k miles | residual 43% | .00200 base money factor
60 month | 15k miles | residual 35% | .00200 base money factor
2011 BMW 335i Convertible
24 month | 15k miles | residual 64% | .00150 base money factor
36 month | 15k miles | residual 58% | .00150 base money factor
48 month | 15k miles | residual 41% | .00200 base money factor
60 month | 15k miles | residual 33% | .00200 base money factor
2011 BMW 335is Convertible
24 month | 15k miles | residual 63% | .00150 base money factor
36 month | 15k miles | residual 57% | .00150 base money factor
48 month | 15k miles | residual 39% | .00200 base money factor
60 month | 15k miles | residual 31% | .00200 base money factor
2011 BMW M3 Coupe
24 month | 15k miles | residual 64% | .00175 base money factor
36 month | 15k miles | residual 58% | .00175 base money factor
48 month | 15k miles | residual 38% | .00200 base money factor
60 month | 15k miles | residual 31% | .00200 base money factor
2011 BMW M3 Sedan
24 month | 15k miles | residual 64% | .00200 base money factor
36 month | 15k miles | residual 58% | .00200 base money factor
48 month | 15k miles | residual 38% | .00200 base money factor
60 month | 15k miles | residual 30% | .00200 base money factor
2011 BMW M3 Convertible
24 month | 15k miles | residual 67% | .00090 base money factor
36 month | 15k miles | residual 61% | .00090 base money factor
48 month | 15k miles | residual 38% | .00200 base money factor
60 month | 15k miles | residual 31% | .00200 base money factor
2011 BMW 528i Sedan
24 month | 15k miles | residual 62% | .00175 base money factor
36 month | 15k miles | residual 56% | .00175 base money factor
48 month | 15k miles | residual 40% | .00200 base money factor
60 month | 15k miles | residual 33% | .00200 base money factor
2011 BMW 535i Sedan
24 month | 15k miles | residual 62% | .00175 base money factor
36 month | 15k miles | residual 56% | .00175 base money factor
48 month | 15k miles | residual 38% | .00200 base money factor
60 month | 15k miles | residual 31% | .00200 base money factor
2011 BMW 535i xDrive Sedan
24 month | 15k miles | residual 62% | .00175 base money factor
36 month | 15k miles | residual 56% | .00175 base money factor
48 month | 15k miles | residual 39% | .00200 base money factor
60 month | 15k miles | residual 31% | .00200 base money factor
2011 BMW 550i Sedan
24 month | 15k miles | residual 59% | .00185 base money factor
36 month | 15k miles | residual 53% | .00185 base money factor
48 month | 15k miles | residual 38% | .00200 base money factor
60 month | 15k miles | residual 31% | .00200 base money factor
2011 BMW 550i xDrive Sedan
24 month | 15k miles | residual 59% | .00185 base money factor
36 month | 15k miles | residual 53% | .00185 base money factor
48 month | 15k miles | residual 39% | .00200 base money factor
60 month | 15k miles | residual 31% | .00200 base money factor
2011 BMW 535i Gran Turismo Wagon
24 month | 15k miles | residual 62% | .00175 base money factor
36 month | 15k miles | residual 56% | .00175 base money factor
48 month | 15k miles | residual 38% | .00200 base money factor
60 month | 15k miles | residual 31% | .00200 base money factor
2011 BMW 535xi Gran Turismo Wagon
24 month | 15k miles | residual 62% | .00175 base money factor
36 month | 15k miles | residual 56% | .00175 base money factor
48 month | 15k miles | residual 37% | .00200 base money factor
60 month | 15k miles | residual 30% | .00200 base money factor
2011 BMW 550i Gran Turismo Wagon
24 month | 15k miles | residual 62% | .00175 base money factor
36 month | 15k miles | residual 56% | .00175 base money factor
48 month | 15k miles | residual 35% | .00200 base money factor
60 month | 15k miles | residual 29% | .00200 base money factor
2011 BMW 550xi Gran Turismo Wagon
24 month | 15k miles | residual 62% | .00175 base money factor
36 month | 15k miles | residual 56% | .00175 base money factor
48 month | 15k miles | residual 36% | .00200 base money factor
60 month | 15k miles | residual 29% | .00200 base money factor
2011 BMW 740i Sedan
24 month | 15k miles | residual 58% | .00165 base money factor
36 month | 15k miles | residual 52% | .00165 base money factor
48 month | 15k miles | residual 35% | .00200 base money factor
60 month | 15k miles | residual 27% | .00200 base money factor
2011 BMW 740Li Sedan
24 month | 15k miles | residual 58% | .00160 base money factor
36 month | 15k miles | residual 52% | .00160 base money factor
48 month | 15k miles | residual 35% | .00200 base money factor
60 month | 15k miles | residual 28% | .00200 base money factor
2011 BMW 750i Sedan
24 month | 15k miles | residual 58% | .00165 base money factor
36 month | 15k miles | residual 52% | .00165 base money factor
48 month | 15k miles | residual 32% | .00200 base money factor
60 month | 15k miles | residual 25% | .00200 base money factor
2011 BMW 750i xDrive Sedan
24 month | 15k miles | residual 58% | .00155 base money factor
36 month | 15k miles | residual 52% | .00155 base money factor
48 month | 15k miles | residual 34% | .00200 base money factor
60 month | 15k miles | residual 27% | .00200 base money factor
2011 BMW 750i ActiveHybrid Sedan
24 month | 15k miles | residual 58% | .00145 base money factor
36 month | 15k miles | residual 52% | .00145 base money factor
48 month | 15k miles | residual 30% | .00200 base money factor
60 month | 15k miles | residual 23% | .00200 base money factor
2011 BMW 750Li Sedan
24 month | 15k miles | residual 58% | .00155 base money factor
36 month | 15k miles | residual 52% | .00155 base money factor
48 month | 15k miles | residual 33% | .00200 base money factor
60 month | 15k miles | residual 26% | .00200 base money factor
2011 BMW 750Li xDrive Sedan
24 month | 15k miles | residual 58% | .00155 base money factor
36 month | 15k miles | residual 52% | .00155 base money factor
48 month | 15k miles | residual 34% | .00200 base money factor
60 month | 15k miles | residual 27% | .00200 base money factor
2011 BMW 750Li ActiveHybrid Sedan
24 month | 15k miles | residual 58% | .00140 base money factor
36 month | 15k miles | residual 52% | .00140 base money factor
48 month | 15k miles | residual 30% | .00200 base money factor
60 month | 15k miles | residual 23% | .00200 base money factor
2011 BMW 760Li Sedan
24 month | 15k miles | residual 44% | .00200 base money factor
36 month | 15k miles | residual 38% | .00200 base money factor
48 month | 15k miles | residual 28% | .00200 base money factor
60 month | 15k miles | residual 21% | .00200 base money factor
2011 BMW Alpina B7 SWB Sedan
24 month | 15k miles | residual 51% | .00200 base money factor
36 month | 15k miles | residual 45% | .00200 base money factor
48 month | 15k miles | residual 32% | .00200 base money factor
60 month | 15k miles | residual 25% | .00200 base money factor
2011 BMW Alpina B7 SWB xDrive Sedan
24 month | 15k miles | residual 51% | .00200 base money factor
36 month | 15k miles | residual 45% | .00200 base money factor
48 month | 15k miles | residual 31% | .00200 base money factor
60 month | 15k miles | residual 23% | .00200 base money factor
2011 BMW Alpina B7 LWB Sedan
24 month | 15k miles | residual 51% | .00200 base money factor
36 month | 15k miles | residual 45% | .00200 base money factor
48 month | 15k miles | residual 32% | .00200 base money factor
60 month | 15k miles | residual 24% | .00200 base money factor
2011 BMW Alpina B7 LWB xDrive Sedan
24 month | 15k miles | residual 50% | .00200 base money factor
36 month | 15k miles | residual 44% | .00200 base money factor
48 month | 15k miles | residual 31% | .00200 base money factor
60 month | 15k miles | residual 23% | .00200 base money factor
2011 BMW X3 xDrive28i SUV
24 month | 15k miles | residual 62% | .00200 base money factor
36 month | 15k miles | residual 56% | .00200 base money factor
48 month | 15k miles | residual 42% | .00200 base money factor
60 month | 15k miles | residual 34% | .00200 base money factor
2011 BMW X3 xDrive35i SUV
24 month | 15k miles | residual 62% | .00200 base money factor
36 month | 15k miles | residual 56% | .00200 base money factor
48 month | 15k miles | residual 41% | .00200 base money factor
60 month | 15k miles | residual 33% | .00200 base money factor
2011 BMW X5 xDrive35i SUV
24 month | 15k miles | residual 59% | .00175 base money factor
36 month | 15k miles | residual 51% | .00175 base money factor
48 month | 15k miles | residual 42% | .00200 base money factor
60 month | 15k miles | residual 34% | .00200 base money factor
2011 BMW X5 xDrive35i Premium SUV
24 month | 15k miles | residual 61% | .00140 base money factor
36 month | 15k miles | residual 55% | .00140 base money factor
48 month | 15k miles | residual 42% | .00200 base money factor
60 month | 15k miles | residual 34% | .00200 base money factor
2011 BMW X5 xDrive35i Sport Activity SUV
24 month | 15k miles | residual 62% | .00155 base money factor
36 month | 15k miles | residual 56% | .00155 base money factor
48 month | 15k miles | residual 40% | .00200 base money factor
60 month | 15k miles | residual 33% | .00200 base money factor
2011 BMW X5 xDrive35d Diesel SUV
24 month | 15k miles | residual 61% | .00200 base money factor
36 month | 15k miles | residual 53% | .00200 base money factor
48 month | 15k miles | residual 44% | .00200 base money factor
60 month | 15k miles | residual 35% | .00200 base money factor
2011 BMW X5 xDrive50i SUV
24 month | 15k miles | residual 64% | .00185 base money factor
36 month | 15k miles | residual 58% | .00185 base money factor
48 month | 15k miles | residual 35% | .00200 base money factor
60 month | 15k miles | residual 28% | .00200 base money factor
2011 BMW X5 M SUV
24 month | 15k miles | residual 57% | .00185 base money factor
36 month | 15k miles | residual 51% | .00185 base money factor
48 month | 15k miles | residual 36% | .00200 base money factor
60 month | 15k miles | residual 28% | .00200 base money factor
2011 BMW X6 xDrive35i Crossover
24 month | 15k miles | residual 63% | .00175 base money factor
36 month | 15k miles | residual 57% | .00175 base money factor
48 month | 15k miles | residual 39% | .00200 base money factor
60 month | 15k miles | residual 32% | .00200 base money factor
2011 BMW X6 xDrive50i Crossover
24 month | 15k miles | residual 62% | .00155 base money factor
36 month | 15k miles | residual 56% | .00155 base money factor
48 month | 15k miles | residual 37% | .00200 base money factor
60 month | 15k miles | residual 30% | .00200 base money factor
2011 BMW X6 ActiveHybrid Crossover
24 month | 15k miles | residual 63% | .00060 base money factor
36 month | 15k miles | residual 57% | .00060 base money factor
48 month | 15k miles | residual 33% | .00200 base money factor
60 month | 15k miles | residual 26% | .00200 base money factor
2011 BMW X6 M Crossover
24 month | 15k miles | residual 53% | .00190 base money factor
36 month | 15k miles | residual 47% | .00190 base money factor
48 month | 15k miles | residual 36% | .00200 base money factor
60 month | 15k miles | residual 29% | .00200 base money factor
2011 BMW Z4 sDrive30i Convertible
24 month | 15k miles | residual 64% | .00100 base money factor
36 month | 15k miles | residual 58% | .00100 base money factor
48 month | 15k miles | residual 32% | .00200 base money factor
60 month | 15k miles | residual 25% | .00200 base money factor
2011 BMW Z4 sDrive35i Convertible
24 month | 15k miles | residual 64% | .00125 base money factor
36 month | 15k miles | residual 58% | .00125 base money factor
48 month | 15k miles | residual 31% | .00200 base money factor
60 month | 15k miles | residual 23% | .00200 base money factor
2011 BMW Z4 sDrive35is Convertible
24 month | 15k miles | residual 64% | .00180 base money factor
36 month | 15k miles | residual 58% | .00180 base money factor
48 month | 15k miles | residual 31% | .00200 base money factor
60 month | 15k miles | residual 23% | .00200 base money factor