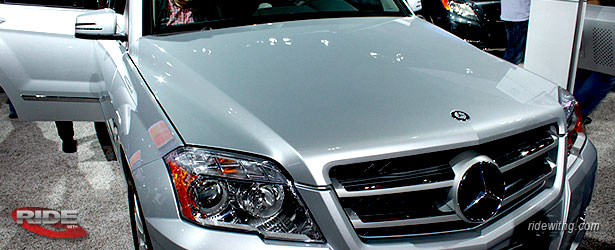 MB residual remain steady for the most part. One notable change is the Ml350 gets a slight reduction in money factor. 2012 SLK seems to have pretty good lease rates for a 2012 model. Sale price may be a problem since the car is so new. Edmunds has not released any incentive information for MBs this month so you will have to check with your dealer to see if there is any cash or special financing available. Overall, not a lot of changes this month.
For those shopping for the entry model C300s, the lease rates are exactly the same as last month. My best local price is only about 5% off MSRP (accourding to TrueCar), but it looks like NE customers can get up to 10%. That's a pretty high big range if you ask me. With that in mind, I would probably find out what your best local price is via TrueCar, but start your negotiation from about 10%-11% and cap it at your best local TrueCar sale price.
FYI – I do have residuals for 30, 42 and 54 lease. MB is pitching 33 month lease rates, which I do not have. If you need these unusual terms, leave me a message and I will share them with it. I would post them, but that just takes way too long.


Here is a sample calculation based on TrueCar's Southern California sale price and do not include local taxes. Please note that your dealer calculations may vary due to local fees/taxes.
2011 Mercedes C300 Sport (48-month)
MSRP – $34,865
Sale Price – $33,146
Monthly – $376+ Tax
RWG Rating – 90.0
For Dealer Quotes, CLICK HERE.


This month's lease rates have been brought to you by Number1Leasing.
Tel: 866-254-9930
info(at)number1leasing.com


2012 Models
2012 Mercedes CLS550
24 month | 15k miles | residual 64% | .00240 money factor
36 month | 15k miles | residual 55% | .00240 money factor
48 month | 15k miles | residual 49% | .00240 money factor
60 month | 15k miles | residual 41% | .00240 money factor
2012 Mercedes CLS63
24 month | 15k miles | residual 58% | .00240 money factor
36 month | 15k miles | residual 50% | .00240 money factor
48 month | 15k miles | residual 44% | .00240 money factor
60 month | 15k miles | residual 39% | .00240 money factor
2012 Mercedes SLK350
24 month | 15k miles | residual 58% | .00154 money factor
36 month | 15k miles | residual 50% | .00154 money factor
48 month | 15k miles | residual 44% | .00154 money factor
60 month | 15k miles | residual 39% | .00154 money factor
2011 Models
2011 Mercedes C300 Luxury
24 month | 15k miles | residual 67% | .00109 money factor
36 month | 15k miles | residual 55% | .00109 money factor
48 month | 15k miles | residual 51% | .00109 money factor
60 month | 15k miles | residual 44% | .00240 money factor
2011 Mercedes C300 Luxury 4matic
24 month | 15k miles | residual 67% | .00109 money factor
36 month | 15k miles | residual 55% | .00109 money factor
48 month | 15k miles | residual 51% | .00109 money factor
60 month | 15k miles | residual 44% | .00240 money factor
2011 Mercedes C300 Sport
24 month | 15k miles | residual 67% | .00109 money factor
36 month | 15k miles | residual 55% | .00109 money factor
48 month | 15k miles | residual 51% | .00109 money factor
60 month | 15k miles | residual 44% | .00240 money factor
2011 Mercedes C300 Sport 4matic
24 month | 15k miles | residual 67% | .00109 money factor
36 month | 15k miles | residual 55% | .00109 money factor
48 month | 15k miles | residual 51% | .00109 money factor
60 month | 15k miles | residual 44% | .00240 money factor
2011 Mercedes C350 Sport
24 month | 15k miles | residual 65% | .00240 money factor
36 month | 15k miles | residual 54% | .00240 money factor
48 month | 15k miles | residual 49% | .00240 money factor
60 month | 15k miles | residual 43% | .00240 money factor
2011 Mercedes C63 AMG
24 month | 15k miles | residual 62% | .00240 money factor
36 month | 15k miles | residual 53% | .00240 money factor
48 month | 15k miles | residual 47% | .00240 money factor
60 month | 15k miles | residual 41% | .00240 money factor
2011 Mercedes CL550 4matic
24 month | 15k miles | residual 58% | .00240 money factor
36 month | 15k miles | residual 47% | .00240 money factor
48 month | 15k miles | residual 41% | .00240 money factor
60 month | 15k miles | residual 36% | .00240 money factor
2011 Mercedes CL600
24 month | 15k miles | residual 46% | .00240 money factor
36 month | 15k miles | residual 38% | .00240 money factor
48 month | 15k miles | residual 33% | .00240 money factor
60 month | 15k miles | residual 29% | .00240 money factor
2011 Mercedes CL63 AMG
24 month | 15k miles | residual 50% | .00240 money factor
36 month | 15k miles | residual 40% | .00240 money factor
48 month | 15k miles | residual 39% | .00240 money factor
60 month | 15k miles | residual 31% | .00240 money factor
2011 Mercedes CL65 AMG
24 month | 15k miles | residual 45% | .00240 money factor
36 month | 15k miles | residual 36% | .00240 money factor
48 month | 15k miles | residual 33% | .00240 money factor
60 month | 15k miles | residual 28% | .00240 money factor
2012 Mercedes CLS550
24 month | 15k miles | residual 60% | .00240 money factor
36 month | 15k miles | residual 51% | .00240 money factor
48 month | 15k miles | residual 45% | .00240 money factor
60 month | 15k miles | residual 39% | .00240 money factor
2012 Mercedes CLS63 AMG
24 month | 15k miles | residual 60% | .00240 money factor
36 month | 15k miles | residual 51% | .00240 money factor
48 month | 15k miles | residual 45% | .00240 money factor
60 month | 15k miles | residual 39% | .00240 money factor
2011 Mercedes E350 Coupe
24 month | 15k miles | residual 64% | .00126 money factor
36 month | 15k miles | residual 54% | .00126 money factor
48 month | 15k miles | residual 47% | .00126 money factor
60 month | 15k miles | residual 41% | .00240 money factor
2011 Mercedes E350 BlueTec Diesel Sedan
24 month | 15k miles | residual 75% | .00240 money factor
36 month | 15k miles | residual 61% | .00240 money factor
48 month | 15k miles | residual 55% | .00240 money factor
60 month | 15k miles | residual 48% | .00240 money factor
2011 Mercedes E350 Luxury Sedan
24 month | 15k miles | residual 69% | .00240 money factor
36 month | 15k miles | residual 56% | .00240 money factor
48 month | 15k miles | residual 51% | .00240 money factor
60 month | 15k miles | residual 44% | .00240 money factor
2011 Mercedes E350 Luxury 4MATIC Sedan
24 month | 15k miles | residual 69% | .00240 money factor
36 month | 15k miles | residual 56% | .00240 money factor
48 month | 15k miles | residual 51% | .00240 money factor
60 month | 15k miles | residual 44% | .00240 money factor
2011 Mercedes E350 Sport Sedan
24 month | 15k miles | residual 69% | .00240 money factor
36 month | 15k miles | residual 57% | .00240 money factor
48 month | 15k miles | residual 51% | .00240 money factor
60 month | 15k miles | residual 44% | .00240 money factor
2011 Mercedes E350 Sport 4MATIC Sedan
24 month | 15k miles | residual 69% | .00240 money factor
36 month | 15k miles | residual 56% | .00240 money factor
48 month | 15k miles | residual 51% | .00240 money factor
60 month | 15k miles | residual 44% | .00240 money factor
2011 Mercedes E350 Luxury 4MATIC Wagon
24 month | 15k miles | residual 69% | .00240 money factor
36 month | 15k miles | residual 56% | .00240 money factor
48 month | 15k miles | residual 51% | .00240 money factor
60 month | 15k miles | residual 44% | .00240 money factor
2011 Mercedes E350 Sport 4MATIC Wagon
24 month | 15k miles | residual 69% | .00240 money factor
36 month | 15k miles | residual 56% | .00240 money factor
48 month | 15k miles | residual 51% | .00240 money factor
60 month | 15k miles | residual 44% | .00240 money factor
2011 Mercedes E350 Convertible
24 month | 15k miles | residual 60% | .00134 money factor
36 month | 15k miles | residual 54% | .00134 money factor
48 month | 15k miles | residual 45% | .00134 money factor
60 month | 15k miles | residual 38% | .00240 money factor
2011 Mercedes E550 Coupe
24 month | 15k miles | residual 62% | .00240 money factor
36 month | 15k miles | residual 52% | .00240 money factor
48 month | 15k miles | residual 45% | .00240 money factor
60 month | 15k miles | residual 39% | .00240 money factor
2011 Mercedes E550 Luxury Sedan
24 month | 15k miles | residual 63% | .00240 money factor
36 month | 15k miles | residual 54% | .00240 money factor
48 month | 15k miles | residual 47% | .00240 money factor
60 month | 15k miles | residual 40% | .00240 money factor
2011 Mercedes E550 Luxury 4MATIC Sedan
24 month | 15k miles | residual 63% | .00240 money factor
36 month | 15k miles | residual 54% | .00240 money factor
48 month | 15k miles | residual 47% | .00240 money factor
60 month | 15k miles | residual 40% | .00240 money factor
2011 Mercedes E550 Sport Sedan
24 month | 15k miles | residual 63% | .00240 money factor
36 month | 15k miles | residual 54% | .00240 money factor
48 month | 15k miles | residual 47% | .00240 money factor
60 month | 15k miles | residual 40% | .00240 money factor
2011 Mercedes E550 Sport 4MATIC Sedan
24 month | 15k miles | residual 63% | .00240 money factor
36 month | 15k miles | residual 54% | .00240 money factor
48 month | 15k miles | residual 47% | .00240 money factor
60 month | 15k miles | residual 40% | .00240 money factor
2011 Mercedes E550 Convertible
24 month | 15k miles | residual 59% | .00240 money factor
36 month | 15k miles | residual 52% | .00240 money factor
48 month | 15k miles | residual 44% | .00240 money factor
60 month | 15k miles | residual 38% | .00240 money factor
2011 Mercedes E63 AMG Sedan
24 month | 15k miles | residual 59% | .00240 money factor
36 month | 15k miles | residual 57% | .00240 money factor
48 month | 15k miles | residual 44% | .00240 money factor
60 month | 15k miles | residual 38% | .00240 money factor
2011 Mercedes G550
24 month | 15k miles | residual 58% | .00240 money factor
36 month | 15k miles | residual 48% | .00240 money factor
48 month | 15k miles | residual 42% | .00240 money factor
60 month | 15k miles | residual 37% | .00240 money factor
2011 Mercedes G55 AMG
24 month | 15k miles | residual 56% | .00240 money factor
36 month | 15k miles | residual 46% | .00240 money factor
48 month | 15k miles | residual 41% | .00240 money factor
60 month | 15k miles | residual 36% | .00240 money factor
2011 Mercedes GL350 BlueTec Diesel
24 month | 15k miles | residual 64% | .00240 money factor
36 month | 15k miles | residual 53% | .00240 money factor
48 month | 15k miles | residual 47% | .00240 money factor
60 month | 15k miles | residual 41% | .00240 money factor
2011 Mercedes GL450
24 month | 15k miles | residual 65% | .00126 money factor
36 month | 15k miles | residual 55% | .00126 money factor
48 month | 15k miles | residual 44% | .00126 money factor
60 month | 15k miles | residual 39% | .00240 money factor
2011 Mercedes GL550
24 month | 15k miles | residual 61% | .00126 money factor
36 month | 15k miles | residual 47% | .00126 money factor
48 month | 15k miles | residual 42% | .00126 money factor
60 month | 15k miles | residual 37% | .00240 money factor
2011 Mercedes GLK350
24 month | 15k miles | residual 63% | .00097 money factor
36 month | 15k miles | residual 51% | .00097 money factor
48 month | 15k miles | residual 44% | .00097 money factor
60 month | 15k miles | residual 37% | .00240 money factor
2011 Mercedes GLK350 4matic
24 month | 15k miles | residual 63% | .00064 money factor
36 month | 15k miles | residual 53% | .00064 money factor
48 month | 15k miles | residual 44% | .00064 money factor
60 month | 15k miles | residual 37% | .00240 money factor
2011 Mercedes ML350 BlueTec Diesel
24 month | 15k miles | residual 65% | .00115 money factor
36 month | 15k miles | residual 55% | .00115 money factor
48 month | 15k miles | residual 47% | .00115 money factor
60 month | 15k miles | residual 40% | .00240 money factor
2011 Mercedes ML350
24 month | 15k miles | residual 59% | .00043 money factor
36 month | 15k miles | residual 50% | .00043 money factor
48 month | 15k miles | residual 44% | .00043 money factor
60 month | 15k miles | residual 38% | .00240 money factor
2011 Mercedes ML350 4matic
24 month | 15k miles | residual 59% | .00035 money factor
36 month | 15k miles | residual 50% | .00035 money factor
48 month | 15k miles | residual 44% | .00035 money factor
60 month | 15k miles | residual 38% | .00240 money factor
2011 Mercedes ML450 Hybrid
36 month | 15k miles | residual 53% | .00240 money factor
48 month | 15k miles | residual 39% | .00240 money factor
60 month | 15k miles | residual 34% | .00240 money factor
2011 Mercedes ML550 4WD
24 month | 15k miles | residual 53% | .00240 money factor
36 month | 15k miles | residual 45% | .00240 money factor
48 month | 15k miles | residual 41% | .00240 money factor
60 month | 15k miles | residual 35% | .00240 money factor
2011 Mercedes ML63 AMG 4WD
24 month | 15k miles | residual 56% | .00240 money factor
36 month | 15k miles | residual 48% | .00240 money factor
48 month | 15k miles | residual 43% | .00240 money factor
60 month | 15k miles | residual 38% | .00240 money factor
2011 Mercedes R350 BlueTec Diesel
24 month | 15k miles | residual 61% | .00240 money factor
36 month | 15k miles | residual 54% | .00240 money factor
48 month | 15k miles | residual 46% | .00240 money factor
60 month | 15k miles | residual 41% | .00240 money factor
2011 Mercedes R350 4matic
24 month | 15k miles | residual 55% | .00240 money factor
36 month | 15k miles | residual 52% | .00240 money factor
48 month | 15k miles | residual 41% | .00240 money factor
60 month | 15k miles | residual 36% | .00240 money factor
2011 Mercedes S400 Hybrid
24 month | 15k miles | residual 54% | .00240 money factor
36 month | 15k miles | residual 49% | .00240 money factor
48 month | 15k miles | residual 39% | .00240 money factor
60 month | 15k miles | residual 33% | .00240 money factor
2011 Mercedes S550
24 month | 15k miles | residual 59% | .00072 money factor
36 month | 15k miles | residual 47% | .00072 money factor
48 month | 15k miles | residual 38% | .00072 money factor
60 month | 15k miles | residual 32% | .00240 money factor
2011 Mercedes S550 4matic
24 month | 15k miles | residual 60% | .00055 money factor
36 month | 15k miles | residual 47% | .00055 money factor
48 month | 15k miles | residual 38% | .00055 money factor
60 month | 15k miles | residual 32% | .00240 money factor
2011 Mercedes S600
24 month | 15k miles | residual 43% | .00240 money factor
36 month | 15k miles | residual 34% | .00240 money factor
48 month | 15k miles | residual 31% | .00240 money factor
60 month | 15k miles | residual 26% | .00240 money factor
2011 Mercedes S63
24 month | 15k miles | residual 51% | .00240 money factor
36 month | 15k miles | residual 41% | .00240 money factor
48 month | 15k miles | residual 36% | .00240 money factor
60 month | 15k miles | residual 32% | .00240 money factor
2011 Mercedes S65
24 month | 15k miles | residual 43% | .00240 money factor
36 month | 15k miles | residual 35% | .00240 money factor
48 month | 15k miles | residual 32% | .00240 money factor
60 month | 15k miles | residual 27% | .00240 money factor
2011 Mercedes SL550
24 month | 15k miles | residual 56% | .00002 money factor
36 month | 15k miles | residual 47% | .00002 money factor
48 month | 15k miles | residual 42% | .00002 money factor
60 month | 15k miles | residual 36% | .00240 money factor
2011 Mercedes SL63 AMG
24 month | 15k miles | residual 49% | .00240 money factor
36 month | 15k miles | residual 41% | .00240 money factor
48 month | 15k miles | residual 37% | .00240 money factor
60 month | 15k miles | residual 32% | .00240 money factor
2011 Mercedes SL65 AMG
24 month | 15k miles | residual 45% | .00240 money factor
36 month | 15k miles | residual 37% | .00240 money factor
48 month | 15k miles | residual 33% | .00240 money factor
60 month | 15k miles | residual 29% | .00240 money factor
2011 Mercedes SLK300
24 month | 15k miles | residual 56% | .00240 money factor
36 month | 15k miles | residual 48% | .00240 money factor
48 month | 15k miles | residual 43% | .00240 money factor
60 month | 15k miles | residual 38% | .00240 money factor
2011 Mercedes SLK350
24 month | 15k miles | residual 58% | .00240 money factor
36 month | 15k miles | residual 50% | .00240 money factor
48 month | 15k miles | residual 44% | .00240 money factor
60 month | 15k miles | residual 39% | .00240 money factor