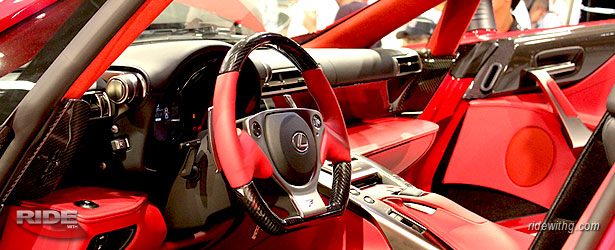 2012s are out and they have the usual high res and mf combination. In retrospect, these lease rates are actually BETTER than last year, when the 2011s were introduced. If you look over to last November, you will notice that the starting MF was 0.00210 with very little in terms of price discounts.
My recommendation is to explore the possibility of leasing a remaining 2011 model. Discounts should be more significant, even if the residual value is low. If that doesn't work , THEN look into leasing a 2012 or perhaps shop for another brand altogether.


Here is a sample calculation based on TrueCar's Southern California sale price and do not include local taxes. Please note that your dealer calculations may vary due to local fees/taxes.
2011 LEXUS GS350 AWD
MSRP – $49,725
Sale Price – $42,274 ($1000 dealer cash)
Monthly – $611+ tax
RWG Rating – 83.6


2012 LEXUS ES350
36 Month – Residual 57% of MSRP – .00190 Base Rate
2012 LEXUS GX460
36 Month – Residual 54% of MSRP – .00190 Base Rate
2012 LEXUS HS250H
36 Month – Residual 55% of MSRP – .00190 Base Rate
2012 LEXUS IS250 AT SDN
36 Month – Residual 60% of MSRP – .00190 Base Rate
2012 LEXUS IS250 AWD AT SDN
36 Month – Residual 60% of MSRP – .00190 Base Rate
2012 LEXUS IS250 AT CONV
36 Month – Residual 61% of MSRP – .00190 Base Rate
2012 LEXUS IS350 AWD AT SEDAN
36 Month – Residual 57% of MSRP – .00190 Base Rate
2012 LEXUS IS350 CONV
36 Month – Residual 58% of MSRP – .00190 Base Rate
2012 LEXUS IS-F
36 Month – Residual 56% of MSRP – .00190 Base Rate
2012 LEXUS LS460 AWD
36 Month – Residual 54% of MSRP – .00190 Base Rate
2012 LEXUS RX350 AWD
36 Month – Residual 58% of MSRP – .00190 Base Rate
2012 LEXUS RX450H AWD
36 Month – Residual 57% of MSRP – .00190 Base Rate
2011 LEXUS GS350 AWD
36 Month – Residual 50% of MSRP – .00190 Base Rate
2011 LEXUS GS460
36 Month – Residual 48% of MSRP – .00190 Base Rate
2011 LEXUS LX570
36 Month – Residual 49% of MSRP – .00190 Base Rate