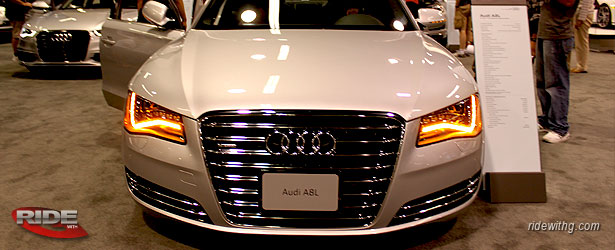 The only change I see is a 2% in residual for the A5 convertible. AFS has dropped the MF to compensate for that loss, but I don't think that'll be enough to keep things interesting. Other than that, everything stay flat (more or less)
Take the A3 for example. There is a $1000 Owner Loyalty Bonus Cash for purchases and a $500 Owner Loyalty Bonus Cash for leases. That's not a bad incentive, but still doesn't make this lease worthwhile. Expect lease rates to change for Nov/Dec. Let us hope for some nice incentives then.


Here is a sample calculation based on TrueCar's Southern California sale price and do not include local taxes. Please note that your dealer calculations may vary due to local fees/taxes.
2012 AUDI A3 2.0T QUATTRO PREMIUM AT
MSRP – $31,725
Sale Price – $29,802 ($500 Owner Loyalty Bonus Cash)
Monthly – $402+ tax
RWG Rating – 81.9
You can support my website by getting FREE Dealer quotes via


2012 AUDI A3 2.0T QUATTRO PREMIUM AT
36 Month – Residual 56% of MSRP – .00143 Base Rate

2012 AUDI A4 2.0T QUATTRO PREMIUM AT
36 Month – Residual 56% of MSRP – .00151 Base Rate

2012 AUDI A5 2.0T COUPE QUATTRO PREMIUM AT
36 Month – Residual 56% of MSRP – .00161 Base Rate

2012 AUDI A5 2.0T CONVERTIBLE QUATTRO PREMIUM AT
36 Month – Residual 55% of MSRP – .00156 Base Rate

2012 AUDI A6 3.0L QUATTRO PREMIUM
36 Month – Residual 52% of MSRP – .00145 Base Rate

2012 AUDI A7 PREMIUM PLUS
36 Month – Residual 52% of MSRP – .00158 Base Rate

2012 AUDI A8 SEDAN
36 Month – Residual 47% of MSRP – .00116 Base Rate

2012 AUDI Q5 2.0L PREMIUM
36 Month – Residual 53% of MSRP – .00159 Base Rate

2012 AUDI Q7 3.0L PREMIUM
36 Month – Residual 55% of MSRP – .00157 Base Rate

2012 AUDI Q7 3.0L TDI PREMIUM
36 Month – Residual 56% of MSRP – .00167 Base Rate

2012 AUDI S4 PREMIUM PLUS AT
36 Month – Residual 58% of MSRP – .00154 Base Rate

2012 AUDI S5 COUPE PREMIUM PLUS AT
36 Month – Residual 59% of MSRP – .00163 Base Rate

2012 AUDI S5 CONVERTIBLE PREMIUM PLUS AT
36 Month – Residual 58% of MSRP – .00158 Base Rate

2012 AUDI TT 2.0T QUATTRO PREMIUM PLUS
36 Month – Residual 53% of MSRP – .00090 Base Rate