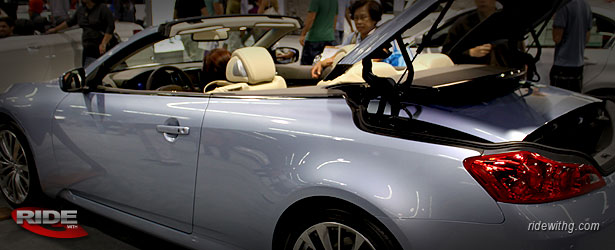 Pretty standard changes for Infinitis changes this month. An 1% drop in residual value and a slight reduction in MF to compensate for that loss. The Holiday cash incentive is over, so only the Loyalty money is on the table. There are also two other $1000 dealer cash incentives, but they either can't be use for leasing or cannot be combined with special lease rates so it's inconsequential. For more information on these rebates, head on over to Edmunds or speak with your dealer.
A word of warning relating to the sale price on my calculation below. Last month, there have been cases were the dealer was only willing to honor the TrueCar "best price" WITHOUT rebates. TrueCar's "best price" quote DOES NOT include incentives, so it's disappointing to see that some dealers will not honor the low sale price plus loyalty cash. This doesn't mean you shouldn't try for "best price" + incentive, but do not be surprised if the dealer refuses to budge. Regardless of your outcome, even if you manage to get the "best price" (without incentives) you are still getting a killer deal on your lease.


Here is a sample calculation based on TrueCar's Southern California sale price and do not include local taxes. Please note that your dealer calculations may vary due to local fees/taxes.
2012 INFINITI G37 JOURNEY SEDAN
MSRP – $37,095
Sale Price – $31,334 ($1000 loyalty cash applied)
Monthly – $313+ tax
RWG Rating – 109.6
Support my site by getting your "no obligation" quotes from:
Edmunds.com
CarsDirect.com


2012 INFINITI EX35 AWD JOURNEY
36 Month – Residual 51% of MSRP – .00119 Base Rate
2012 INFINITI FX35 AWD
36 Month – Residual 53% of MSRP – .00107 Base Rate
2012 INFINITI FX50 AWD
36 Month – Residual 50% of MSRP – .00121 Base Rate
2012 INFINITI G37 COUPE IPL AT
36 Month – Residual 54% of MSRP – .00065 Base Rate
2012 INFINITI G37 COUPE JOURNEY
36 Month – Residual 57% of MSRP – .00065 Base Rate
2012 INFINITI G37 COUPE X AWD
36 Month – Residual 58% of MSRP – .00072 Base Rate
2012 INFINITI G37 COUPE SPORT MANUAL
36 Month – Residual 57% of MSRP – .00065 Base Rate
2012 INFINITI G25 SEDAN JOURNEY
36 Month – Residual 57% of MSRP – .00045 Base Rate
2012 INFINITI G25 SEDAN X AWD
36 Month – Residual 58% of MSRP – .00052 Base Rate
2012 INFINITI G37 SEDAN JOURNEY
36 Month – Residual 57% of MSRP – .00057 Base Rate
2012 INFINITI G37 SEDAN X AWD
36 Month – Residual 58% of MSRP – .00064 Base Rate
2012 INFINITI G37 SEDAN SPORT MANUAL
36 Month – Residual 56% of MSRP – .00057 Base Rate
2012 INFINITI M37 SEDAN X AWD
36 Month – Residual 50% of MSRP – .00001 Base Rate
2012 INFINITI M56 SEDAN X AWD
36 Month – Residual 49% of MSRP – .00091 Base Rate
2012 INFINITI M35H SEDAN HYBRID
36 Month – Residual 50% of MSRP – .00026 Base Rate
2012 INFINITI QX56 4WD
36 Month – Residual 52% of MSRP – .00164 Base Rate
2012 INFINITI G37 CONVERTIBLE BASE
36 Month – Residual 56% of MSRP – .00119 Base Rate
2012 INFINITI G37 CONVERTIBLE SPORT 6MT
36 Month – Residual 57% of MSRP – .00119 Base Rate