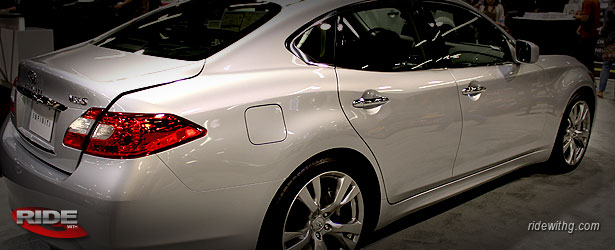 Slight change in the numbers compared to last month (Very slight bump in MF, nothing you will really notice). There is also dealer cash available for leases, such as the $1000 loyalty for the G sedan. The bad news is that sale prices have gone up a bit. Using the Infiniti G37 Journey sedan as an example, you are looking at about 9% off MSRP. If you factor in the $1000 loyalty dealer cash, you will be looking at about 11.5% off MSRP. A big jump from last month's estimates, but still a very good deal overall. Also, you may want to inquire about the "pull-ahead" program they usually run in the first half of the year. They will allow existing Infiniti lessees to end their lease early without penalty (as long as your next lease is also an Infiniti).
We are starting to see an upward trend on the sale prices across many makes and models. Looks like leasing cars is starting to get a bit more expensive. I'm not so sure this is going to be a long-term trend though since January/Feb are generally bad leasing months. There's plenty of room for better deals since the year is still young.


Here is a sample calculation based on TrueCar's Southern California sale price and do not include local taxes. Please note that your dealer calculations may vary due to local fees/taxes.
2012 INFINITI G37 JOURNEY SEDAN
MSRP – $37,095
Sale Price – $33,035 ($1000 loyalty cash applied)
Monthly – $358+ tax
RWG Rating – 99.5


2012 INFINITI EX35 AWD JOURNEY
36 Month – Residual 51% of MSRP – .00120 Base Rate
2012 INFINITI FX35 AWD
36 Month – Residual 53% of MSRP – .00108 Base Rate
2012 INFINITI FX50 AWD
36 Month – Residual 50% of MSRP – .00121 Base Rate
2012 INFINITI G37 COUPE IPL AT
36 Month – Residual 54% of MSRP – .00066 Base Rate
2012 INFINITI G37 COUPE JOURNEY
36 Month – Residual 57% of MSRP – .00066 Base Rate
2012 INFINITI G37 COUPE X AWD
36 Month – Residual 58% of MSRP – .00074 Base Rate
2012 INFINITI G37 COUPE SPORT MANUAL
36 Month – Residual 57% of MSRP – .00066 Base Rate
2012 INFINITI G25 SEDAN JOURNEY
36 Month – Residual 57% of MSRP – .00047 Base Rate
2012 INFINITI G25 SEDAN X AWD
36 Month – Residual 58% of MSRP – .00054 Base Rate
2012 INFINITI G37 SEDAN JOURNEY
36 Month – Residual 57% of MSRP – .00058 Base Rate
2012 INFINITI G37 SEDAN X AWD
36 Month – Residual 58% of MSRP – .00066 Base Rate
2012 INFINITI G37 SEDAN SPORT MANUAL
36 Month – Residual 56% of MSRP – .00058 Base Rate
2012 INFINITI M37 SEDAN X AWD
36 Month – Residual 50% of MSRP – .00001 Base Rate
2012 INFINITI M56 SEDAN X AWD
36 Month – Residual 49% of MSRP – .00091 Base Rate
2012 INFINITI M35H SEDAN HYBRID
36 Month – Residual 50% of MSRP – .00025 Base Rate
2012 INFINITI QX56 4WD
36 Month – Residual 52% of MSRP – .00164 Base Rate
2012 INFINITI G37 CONVERTIBLE BASE
36 Month – Residual 56% of MSRP – .00120 Base Rate
2012 INFINITI G37 CONVERTIBLE SPORT 6MT
36 Month – Residual 57% of MSRP – .00120 Base Rate