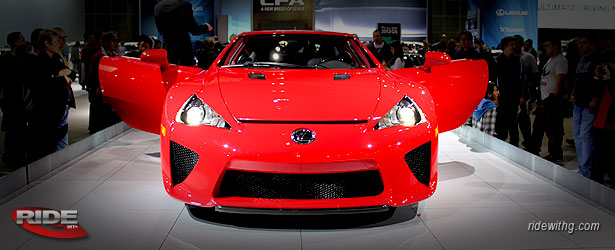 No clear pattern here. Lexus seems to have kept a lot of the residuals the same and improved on many model's MF as well. However, there are a few models that either got a drop in residual or a bump in MF. Seems rather random to me. Nevertheless, the popular models either stayed the same or improved a bit.
Looking at the CT200H, gas prices have bumped the sale price of this car above MSRP. Why anyone would want to pay a premium just to save a little bit on gas is beyond me.


Here is a sample calculation based on TrueCar's Southern California sale price and do not include local taxes. Please note that your dealer calculations may vary due to local fees/taxes.
2012 LEXUS CT200H HYBRID PREMIUM
MSRP – $32,625
Sale Price – $33,084 (no discounts applied)
Monthly – $441+ tax
RWG Rating – 78.3


2012 LEXUS CT200H HYBRID PREMIUM
36 Month – Residual 59% of MSRP – .00110 Base Rate
2012 LEXUS ES350
36 Month – Residual 56% of MSRP – .00130 Base Rate
2012 LEXUS GX460
36 Month – Residual 53% of MSRP – .00190 Base Rate
2012 LEXUS HS250H
36 Month – Residual 54% of MSRP – .00190 Base Rate
2012 LEXUS IS250 AT SDN
36 Month – Residual 59% of MSRP – .00140 Base Rate
2012 LEXUS IS250 AWD AT SDN
36 Month – Residual 59% of MSRP – .00125 Base Rate
2012 LEXUS IS250 AT CONV
36 Month – Residual 60% of MSRP – .00150 Base Rate
2012 LEXUS IS350 AWD AT SEDAN
36 Month – Residual 56% of MSRP – .00140 Base Rate
2012 LEXUS IS350 CONV
36 Month – Residual 57% of MSRP – .00150 Base Rate
2012 LEXUS IS-F
36 Month – Residual 55% of MSRP – .00150 Base Rate
2012 LEXUS LS460 AWD
36 Month – Residual 53% of MSRP – .00190 Base Rate
2012 LEXUS RX350 AWD
36 Month – Residual 57% of MSRP – .00130 Base Rate
2012 LEXUS RX450H AWD
36 Month – Residual 56% of MSRP – .00160 Base Rate