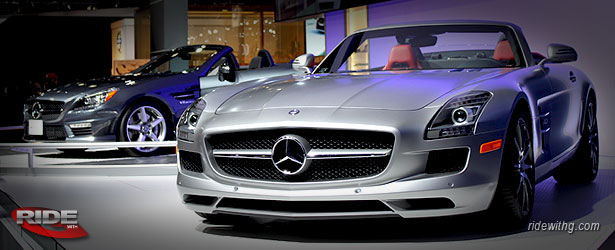 Bad News: TrueCar is no longer displaying factory/dealer invoice pricing. This will make negotiating a bit more difficult, but not impossible.
Worst News: MBFS kept the residuals intact, but bumped the MF on many of their vehicles including the C-Class sedans. To add insult to injury, MB also changed the loyalty cash from $2000 to $1000. The C250 Coupe just got about $30 bucks more expensive (see calculation below).
Good News: TrueCar seems to have reinstated the Dealer/Factory Invoice pricing back into their website. WooHoo! Looks like I celebrated too early. It's offline again…*sigh*


Here is a sample calculation based on TrueCar's Southern California sale price and do not include local taxes. Please note that your dealer calculations may vary due to local fees/taxes.
2012 Mercedes C250 2dr Coupe
MSRP – $38,095
Sale Price – $35,500 ($1000 loyalty cash applied)
Monthly – $424+ tax
RWG Rating – 89.5


2012 Mercedes C300 4matic Sport 4dr Sedan
36 Month – Residual 58% of MSRP – .00177 Base Rate
2012 Mercedes C250 Sport 4dr Sedan
36 Month – Residual 59% of MSRP – .00190 Base Rate
2012 Mercedes C250 2dr Coupe
36 Month – Residual 66% of MSRP – .00225 Base Rate
2012 Mercedes C350 2dr Coupe
36 Month – Residual 64% of MSRP – .00225 Base Rate
2012 Mercedes CL550 4matic 2dr Coupe
36 Month – Residual 48% of MSRP – .00225 Base Rate
2012 Mercedes CLS550 4matic 4dr Sedan
36 Month – Residual 54% of MSRP – .00195 Base Rate
2012 Mercedes E350 Sport 4matic 4dr Sedan
36 Month – Residual 52% of MSRP – .00169 Base Rate
2012 Mercedes E350 2dr Coupe
36 Month – Residual 57% of MSRP – .00175 Base Rate
2012 Mercedes E350 2dr Convertible
36 Month – Residual 57% of MSRP – .00177 Base Rate
2012 Mercedes GL450 4matic
36 Month – Residual 55% of MSRP – .00140 Base Rate
2012 Mercedes GLK350 4matic
36 Month – Residual 54% of MSRP – .00166 Base Rate
2012 Mercedes ML350 4matic
36 Month – Residual 56% of MSRP – .00191 Base Rate
2012 Mercedes ML350 BLUETEC
36 Month – Residual 60% of MSRP – .00225 Base Rate
2012 Mercedes R350 4matic
36 Month – Residual 52% of MSRP – .00225 Base Rate
2012 Mercedes S550 4matic
36 Month – Residual 50% of MSRP – .00136 Base Rate
2012 Mercedes SL550 Convertible
36 Month – Residual 54% of MSRP – .00165 Base Rate
2012 Mercedes SLK350 Convertible
36 Month – Residual 53% of MSRP – .00154 Base Rate