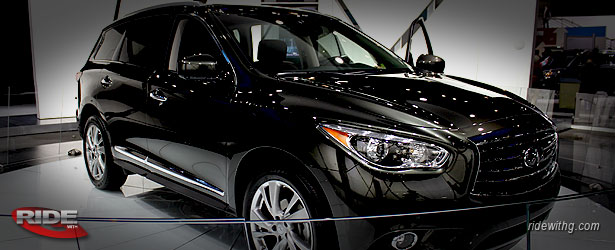 Like a lot of other captive banks, IFS has dropped the residual and money factor for many of their models. I would like to direct your attention to the G37 IPL. It has a 1% drop in residual, but the MF has dropped from .00053 to 0.00008. That's right, that's 0.192% interest! That's a more than 1% drop compared to last month. This is car is a PRIME candidate for Lease-to-Buy. The concept is simple. If you plan to buy out a car at the end of your lease, you find the one with the lowest residual and lowest money factor. This will ensure that most of your payments are going towards the car's value instead of taxes and interest. The downside to this technique is that it requires that you make a balloon payment at the end to avoid having to finance the remainder of the car's value. However, if you can get an attractive rate at lease end, you might still be able to save some money.  The lowest financing rate right now is 1.9% up to 66 months so it may be worth your while to crunch some numbers to see if leasing the car first will work for you.
Going back to the G37 Journey Sedan, the sample calculation looks good! Certainly an improvement from last month. TrueCar has changed the way they provide pricing information, so the calculating is based on their "average savings" estimate minus the MSRP. This may already include some customer or dealer incentives. With that in mind, I'm really liking what I'm seeing! The residual is lower but the MF is great! This makes buying out the car at the end an option. Infiniti offers great leases year round and I suspect that as we roll into the second half of the year, the numbers could get better.


Here is a sample calculation based on TrueCar's Southern California sale price and do not include local taxes. Please note that your dealer calculations may vary due to local fees/taxes.
2012 INFINITI G37 JOURNEY SEDAN
MSRP – $37,295
Sale Price – $33,014
Monthly – $352+ tax
RWG Rating – 100.8
Support my site by getting your "no obligation" quotes from:
TrueCar
CarsDirect.com


2012 INFINITI EX35 AWD JOURNEY
36 Month – Residual 48% of MSRP – .00071 Base Rate
2012 INFINITI FX35 AWD
36 Month – Residual 51% of MSRP – .00071 Base Rate
2012 INFINITI FX50 AWD
36 Month – Residual 48% of MSRP – .00084 Base Rate
2012 INFINITI G37 COUPE IPL AT
36 Month – Residual 51% of MSRP – .00008 Base Rate
2012 INFINITI G37 COUPE JOURNEY
36 Month – Residual 55% of MSRP – .00008 Base Rate
2012 INFINITI G37 COUPE X AWD
36 Month – Residual 56% of MSRP – .00016 Base Rate
2012 INFINITI G37 COUPE SPORT MANUAL
36 Month – Residual 55% of MSRP – .00008 Base Rate
2012 INFINITI G25 SEDAN JOURNEY
36 Month – Residual 55% of MSRP – .00001 Base Rate
2012 INFINITI G25 SEDAN X AWD
36 Month – Residual 56% of MSRP – .00008 Base Rate
2012 INFINITI G37 SEDAN JOURNEY
36 Month – Residual 55% of MSRP – .00009 Base Rate
2012 INFINITI G37 SEDAN X AWD
36 Month – Residual 55% of MSRP – .00001 Base Rate
2012 INFINITI G37 SEDAN SPORT MANUAL
36 Month – Residual 54% of MSRP – .00009 Base Rate
2012 INFINITI M37 SEDAN X AWD
36 Month – Residual 49% of MSRP – .00008 Base Rate
2012 INFINITI M56 SEDAN X AWD
36 Month – Residual 47% of MSRP – .00053 Base Rate
2012 INFINITI M35H SEDAN HYBRID
36 Month – Residual 48% of MSRP – .00021 Base Rate
2012 INFINITI QX56 4WD
36 Month – Residual 52% of MSRP – .00164 Base Rate
2012 INFINITI G37 CONVERTIBLE BASE
36 Month – Residual 54% of MSRP – .00047 Base Rate
2012 INFINITI G37 CONVERTIBLE SPORT 6MT
36 Month – Residual 55% of MSRP – .00047 Base Rate
2013 INFINITI JX35 AWD
36 Month – Residual 60% of MSRP – .00157 Base Rate