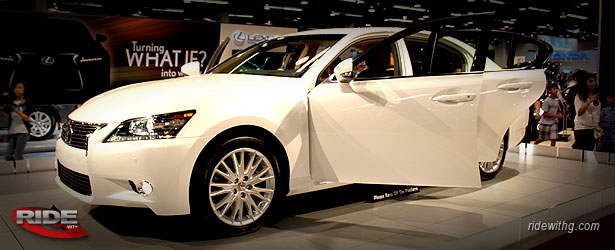 LFS adjusted residuals and MF randomly this month. Residual either stayed the same or dropped by 1%. MFs, on the other hand, went up and down or stayed the same. Doesn't make too much sense if you ask me.
Lexus is currently making the first payment for customers who lease a new 2012 RX 350, IS 250 Sedan, IS 350 Sedan, or ES 350 (capped at $700). You also get $1000 in loyalty/college/military cash that you can apply towards your lease or drive-off.
The lease on the IS250 this month seem slightly higher than last. Lexus also bumped the MSRP of the IS by $200. Overall, this is still an attractive lease so it isn't a bad time to get into the IS.


Here is a sample calculation based on TrueCar's Southern California sale price and do not include local taxes. Please note that your dealer calculations may vary due to local fees/taxes.
2012 LEXUS IS250 AT SDN
MSRP – $34,670
Sale Price – $31,673 ($1000 loyalty or college cash)
Monthly – $368+ tax
RWG Rating – 92.6
Support my site by getting your "no obligation" quotes from:
TrueCar
CarsDirect.com


2012 LEXUS CT200H HYBRID PREMIUM
36 Month – Residual 58% of MSRP – .00190 Base Rate
2012 LEXUS ES350
36 Month – Residual 55% of MSRP – .00110 Base Rate
2012 LEXUS GX460
36 Month – Residual 52% of MSRP – .00190 Base Rate
2012 LEXUS HS250H
36 Month – Residual 53% of MSRP – .00190 Base Rate
2012 LEXUS IS250 AT SDN
36 Month – Residual 58% of MSRP – .00090 Base Rate
2012 LEXUS IS250 AWD AT SDN
36 Month – Residual 58% of MSRP – .00090 Base Rate
2012 LEXUS IS250 AT CONV
36 Month – Residual 59% of MSRP – .00190 Base Rate
2012 LEXUS IS350 AWD AT SEDAN
36 Month – Residual 55% of MSRP – .00090 Base Rate
2012 LEXUS IS350 CONV
36 Month – Residual 56% of MSRP – .00190 Base Rate
2012 LEXUS IS-F
36 Month – Residual 54% of MSRP – .00190 Base Rate
2012 LEXUS LS460 AWD
36 Month – Residual 52% of MSRP – .00130 Base Rate
2012 LEXUS RX350 AWD
36 Month – Residual 56% of MSRP – .00060 Base Rate
2012 LEXUS RX450H AWD
36 Month – Residual 55% of MSRP – .00090 Base Rate
2013 LEXUS GS350 AWD
36 Month – Residual 62% of MSRP – .00190 Base Rate