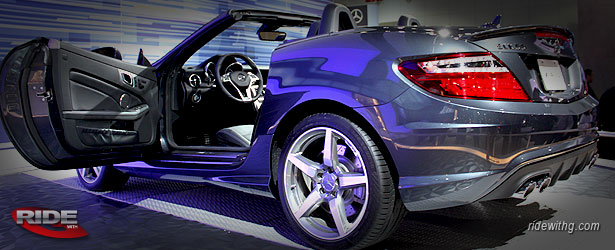 It looks like MB dealers are willing to deal on any remaining 2012 GLKs. I negotiated a deal for a reader last week. $44.5k MSRP, 39.5k sale price. $5k at signing (there was some employer cash involved) $328 a month. 24mo/10k. After going back and forth a bit, this same dealer was willing to part with it for $3150 at signing, $350 a month @ 24mo/15k per year. Ultimately, the deal didnt happen, but this car, as of 8/25, is still available. 4matic, P1, pano, trailer, heated seats, navi, in artic white. If you are interested, email me at info(at)ridewithg.com. This is for Bay Area residents (SF vicinity or those willing to go there to pick it up).
If you are looking for the 2012 numbers, I didn't get them this month. I know some of you will ask me anyway, but things are what they are. So my apologies for not being able to assist you with the "older" models. Please contact your local dealer or broker for more information. 2013s that were out last month carry over to this month. If you are looking for the 2012s, you might still be able to use last month's numbers as a guide.


Here is a sample calculation based on TrueCar's Southern California sale price and do not include local taxes. Please note that your dealer calculations may vary due to local fees/taxes.
2013 Mercedes C250 Sport 4dr Sedan
MSRP – $36225
Sale Price – $35591
Monthly – $514+ tax
RWG Rating – 75.9
Support my site by getting your "no obligation" quotes from:
TrueCar
CarsDirect.com


2013 Mercedes C300 4matic Sport 4dr Sedan
36 Month – Residual 59% of MSRP – .00126 Base Rate
2013 Mercedes C250 Sport 4dr Sedan
36 Month – Residual 59% of MSRP – .00210 Base Rate
2013 Mercedes C250 2dr Coupe
36 Month – Residual 62% of MSRP – .00210 Base Rate
2013 Mercedes C350 2dr Coupe
36 Month – Residual 62% of MSRP – .00210 Base Rate
2013 Mercedes C350 4matic 2dr Coupe
36 Month – Residual 62% of MSRP – .00210 Base Rate
2013 Mercedes CL550 4matic 2dr Coupe
36 Month – Residual 50% of MSRP – .00210 Base Rate
2013 Mercedes CLS550 4matic 4dr Sedan
36 Month – Residual 53% of MSRP – .00145 Base Rate
2013 Mercedes E350 Sport 4matic 4dr Sedan
36 Month – Residual 58% of MSRP – .00210 Base Rate
2013 Mercedes E350 2dr Coupe
36 Month – Residual 58% of MSRP – .00210 Base Rate
2013 Mercedes E350 4matic 2dr Coupe
36 Month – Residual 58% of MSRP – .00210 Base Rate
2013 Mercedes E350 2dr Convertible
36 Month – Residual 58% of MSRP – .00210 Base Rate
2013 Mercedes G550 4matic
36 Month – Residual 51% of MSRP – .00210 Base Rate
2013 Mercedes GLK350 4matic
36 Month – Residual 57% of MSRP – .00145 Base Rate
2013 Mercedes ML350 4matic
36 Month – Residual 55% of MSRP – .00210 Base Rate
2013 Mercedes S550 4matic
36 Month – Residual 52% of MSRP – .00150 Base Rate
2013 Mercedes SLK350 Convertible
36 Month – Residual 59% of MSRP – .00145 Base Rate
2013 Mercedes SL550 Convertible
36 Month – Residual 55% of MSRP – .00210 Base Rate