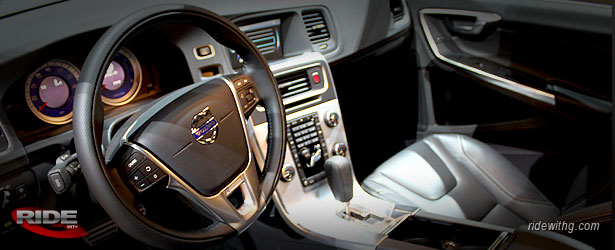 Residual drops 1%-2% with MF dropping to keep things within a reasonable payment range (relative to last month).
For the S60 specifically, there is $1000 loyalty (available to your household) and $1000 conquest (available to owners of Acura, Audi, BMW, Infiniti, Lexus, Mercedes, Honda, Nissan, Toyota, or Volkswagen). This is good news because it helps drop the sale price down to about 7.5% off MSRP assuming you qualify for either of these rebates. The S60 T5 is a good lease right now and it's a pretty sweet ride, just check out Nick's S60 T5 and you will see why the S60 is a good alternative to any other ride around this price range. It also comes with Volvo's complimentary Safe + Secure Coverage Plan which will take care of you through the life of the lease.
Lease rates was made available by the good folks at North Point Volvo. If you are in or near the Alpharetta, GA area and looking for a Volvo, please give them a call.


Here is a sample calculation based on TrueCar's Southern California sale price and do not include local taxes. Please note that your dealer calculations may vary due to local fees/taxes.
2012 S60 T-5 w/ moonroof
MSRP – $34,075
Sale Price – $31,483 ($1000 loyalty or conquest applied)
Monthly – $372+ tax
RWG Rating – 90.8
Support my site by getting your "no obligation" quotes from:
TrueCar
Edmunds.com
CarsDirect.com
For folks in Georgia, contact North Point Volvo in Alpharetta.

2012
2012 C30 T-5
36-month | 15k miles | residual 54% | .00092 base money factor
48-month | 15k miles | residual 45% | .00147 base money factor
2012 C30 T-5 Premier Plus
36-month | 15k miles | residual 53% | .00092 base money factor
48-month | 15k miles | residual 44% | .00147 base money factor
2012 C30 T-5 Platinum
36-month | 15k miles | residual 52% | .00092 base money factor
48-month | 15k miles | residual 44% | .00147 base money factor
2012 C30 T-5 R-Design
36-month | 15k miles | residual 53% | .00092 base money factor
48-month | 15k miles | residual 44% | .00147 base money factor
2012 C30 T-5 R-Design Premier Plus
36-month | 15k miles | residual 51% | .00092 base money factor
48-month | 15k miles | residual 43% | .00147 base money factor
2012 C30 T-5 R-Design Platinum
36-month | 15k miles | residual 50% | .00092 base money factor
48-month | 15k miles | residual 42% | .00147 base money factor
2012 C70 T-5
36-month | 15k miles | residual 50% | .00001 base money factor
48-month | 15k miles | residual 42% | .00065 base money factor
2012 C70 T-5 Premier Plus
36-month | 15k miles | residual 49% | .00001 base money factor
48-month | 15k miles | residual 41% | .00065 base money factor
2012 C70 T-5 Platinum
36-month | 15k miles | residual 48% | .00001 base money factor
48-month | 15k miles | residual 40% | .00065 base money factor
2012 S60 T-5
36-month | 15k miles | residual 54% | .00017 base money factor
48-month | 15k miles | residual 48% | .00086 base money factor
2012 S60 T-6
36-month | 15k miles | residual 50% | .00001 base money factor
48-month | 15k miles | residual 42% | .00081 base money factor
2012 S60 T-6 R-design
36-month | 15k miles | residual 49% | .00001 base money factor
48-month | 15k miles | residual 41% | .00081 base money factor
2012 S80 3.2
36-month | 15k miles | residual 48% | .00001 base money factor
48-month | 15k miles | residual 40% | .00065 base money factor
2012 S80 3.2 Premier Plus
36-month | 15k miles | residual 47% | .00001 base money factor
48-month | 15k miles | residual 40% | .00065 base money factor
2012 S80 3.2 Platinum
36-month | 15k miles | residual 46% | .00001 base money factor
48-month | 15k miles | residual 39% | .00065 base money factor
2012 S80 T-6 Premier Plus
36-month | 15k miles | residual 49% | .00001 base money factor
48-month | 15k miles | residual 42% | .00065 base money factor
2012 S80 T-6 Platinum
36-month | 15k miles | residual 48% | .00001 base money factor
48-month | 15k miles | residual 41% | .00065 base money factor
2012 XC-60 T-6 R-design
36-month | 15k miles | residual 47% | .00028 base money factor
48-month | 15k miles | residual 38% | .000128 base money factor
2012 XC-60 T-6 R-design Premier Plus
36-month | 15k miles | residual 46% | .00028 base money factor
48-month | 15k miles | residual 37% | .00128 base money factor
2012 XC-60 T-6 R-design Platinum
36-month | 15k miles | residual 45% | .00028 base money factor
48-month | 15k miles | residual 36% | .00128 base money factor
2012 XC-60 T-6
36-month | 15k miles | residual 48% | .00028 base money factor
48-month | 15k miles | residual 39% | .00128 base money factor
2012 XC-60 T-6 Premier Plus
36-month | 15k miles | residual 47% | .00028 base money factor
48-month | 15k miles | residual 38% | .00128 base money factor
2012 XC-60 T-6 Platinum
36-month | 15k miles | residual 46% | .00028 base money factor
48-month | 15k miles | residual 38% | .00128 base money factor
2012 XC-60 3.2 AWD
36-month | 15k miles | residual 48% | .00028 base money factor
48-month | 15k miles | residual 40% | .00128 base money factor
2012 XC-60 3.2 AWD Premier
36-month | 15k miles | residual 47% | .00028base money factor
48-month | 15k miles | residual 39% | .00128 base money factor
2012 XC-60 3.2 AWD Premier Plus
36-month | 15k miles | residual 46% | .00028 base money factor
48-month | 15k miles | residual 38% | .00128 base money factor
2012 XC-60 3.2 AWD Platinum
36-month | 15k miles | residual 45% | .00028 base money factor
48-month | 15k miles | residual 37% | .00128 base money factor
2012 XC-60 3.2 FWD
36-month | 15k miles | residual 47% | .00028 base money factor
48-month | 15k miles | residual 37% | .00128 base money factor
2012 XC-60 3.2 FWD Premier
36-month | 15k miles | residual 46% | .00028 base money factor
48-month | 15k miles | residual 37% | .00128 base money factor
2012 XC-60 3.2 FWD Premier Plus
36-month | 15k miles | residual 45% | .00028 base money factor
48-month | 15k miles | residual 37% | .00128 base money factor
2012 XC-60 3.2 FWD Platinum
36-month | 15k miles | residual 44% | .00028 base money factor
48-month | 15k miles | residual 36% | .00128 base money factor
2012 XC-70 3.2 AWD
36-month | 15k miles | residual 51% | .00070 base money factor
48-month | 15k miles | residual 42% | .00160 base money factor
2012 XC-70 3.2 AWD Premier
36-month | 15k miles | residual 51% | .00070 base money factor
48-month | 15k miles | residual 42% | .00160 base money factor
2012 XC-70 3.2 AWD Premier Plus
36-month | 15k miles | residual 50% | .00070 base money factor
48-month | 15k miles | residual 41% | .00160 base money factor
2012 XC-70 3.2 AWD Platinum
36-month | 15k miles | residual 50% | .00070 base money factor
48-month | 15k miles | residual 42% | .00160 base money factor
2012 XC-70 3.2 FWD
36-month | 15k miles | residual 50% | .00070 base money factor
48-month | 15k miles | residual 42% | .00160 base money factor
2012 XC-70 3.2 FWD Premier
36-month | 15k miles | residual 50% | .00070 base money factor
48-month | 15k miles | residual 42% | .00160 base money factor
2012 XC-70 3.2 FWD Premier Plus
36-month | 15k miles | residual 49% | .00070 base money factor
48-month | 15k miles | residual 41% | .00160 base money factor
2012 XC-70 3.2 FWD Platinum
36-month | 15k miles | residual 48% | .00070 base money factor
48-month | 15k miles | residual 40% | .00160 base money factor
2012 XC-70 T-6
36-month | 15k miles | residual 52% | .00070 base money factor
48-month | 15k miles | residual 43% | .00160 base money factor
2012 XC-70 T-6 Premier Plus
36-month | 15k miles | residual 51% | .00070 base money factor
48-month | 15k miles | residual 42% | .00160 base money factor
2012 XC-70 T-6 Platinum
36-month | 15k miles | residual 51% | .00070 base money factor
48-month | 15k miles | residual 42% | .00160 base money factor
2012 XC-90 3.2 AWD
36-month | 15k miles | residual 51% | .00070 base money factor
48-month | 15k miles | residual 42% | .00122 base money factor
2012 XC-90 3.2 AWD Premier Plus
36-month | 15k miles | residual 50% | .00070 base money factor
48-month | 15k miles | residual 41% | .00122 base money factor
2012 XC-90 3.2 AWD Platinum
36-month | 15k miles | residual 49% | .00070 base money factor
48-month | 15k miles | residual 41% | .00122 base money factor
2012 XC-90 3.2 FWD
36-month | 15k miles | residual 49% | .00070 base money factor
48-month | 15k miles | residual 40% | .00122 base money factor
2012 XC-90 3.2 FWD Premier Plus
36-month | 15k miles | residual 48% | .00070 base money factor
48-month | 15k miles | residual 40% | .00122 base money factor
2012 XC-90 3.2 FWD Platinum
36-month | 15k miles | residual 47% | .00070 base money factor
48-month | 15k miles | residual 39% | .00122 base money factor
2012 XC-90 3.2 AWD R-Design
36-month | 15k miles | residual 50% | .00070 base money factor
48-month | 15k miles | residual 42% | .00122 base money factor
2012 XC-90 3.2 AWD R-Design Premier Plus
36-month | 15k miles | residual 49% | .00070 base money factor
48-month | 15k miles | residual 41% | .00122 base money factor
2012 XC-90 3.2 AWD R-Design Platinum
36-month | 15k miles | residual 48% | .00070 base money factor
48-month | 15k miles | residual 41% | .00122 base money factor
2012 XC-90 3.2 FWD R-Design
36-month | 15k miles | residual 49% | .00070 base money factor
48-month | 15k miles | residual 41% | .00122 base money factor
2012 XC-90 3.2 FWD R-Design Premium Plus
36-month | 15k miles | residual 48% | .00070 base money factor
48-month | 15k miles | residual 41% | .00122 base money factor
2012 XC-90 3.2 FWD R-Design Platinum
36-month | 15k miles | residual 47% | .00070 base money factor
48-month | 15k miles | residual 40% | .00122 base money factor
2013 XC-90 3.2 AWD
36-month | 15k miles | residual 57% | .00178 base money factor
48-month | 15k miles | residual 47% | .00175 base money factor
2013 XC-90 3.2 AWD Premier Plus
36-month | 15k miles | residual 56% | .00178 base money factor
48-month | 15k miles | residual 46% | .00175 base money factor
2013 XC-90 3.2 AWD Platinum
36-month | 15k miles | residual 55% | .00178 base money factor
48-month | 15k miles | residual 45% | .00175 base money factor
2013 XC-90 3.2 FWD
36-month | 15k miles | residual 55% | .00178 base money factor
48-month | 15k miles | residual 46% | .00175 base money factor
2013 XC-90 3.2 FWD Premier Plus
36-month | 15k miles | residual 54% | .00178 base money factor
48-month | 15k miles | residual 45% | .00175 base money factor
2013 XC-90 3.2 FWD Platinum
36-month | 15k miles | residual 54% | .00178 base money factor
48-month | 15k miles | residual 44% | .00175 base money factor
2013 XC-90 3.2 AWD R-Design
36-month | 15k miles | residual 58% | .00178 base money factor
48-month | 15k miles | residual 48% | .00175 base money factor
2013 XC-90 3.2 AWD R-Design Premier Plus
36-month | 15k miles | residual 57% | .00178 base money factor
48-month | 15k miles | residual 47% | .00175 base money factor
2013 XC-90 3.2 AWD R-Design Platinum
36-month | 15k miles | residual 56% | .00178 base money factor
48-month | 15k miles | residual 46% | .00175 base money factor
2013 XC-90 3.2 FWD R-Design
36-month | 15k miles | residual 57% | .00178 base money factor
48-month | 15k miles | residual 47% | .00175 base money factor
2013 XC-90 3.2 FWD R-Design Premium Plus
36-month | 15k miles | residual 55% | .00178 base money factor
48-month | 15k miles | residual 46% | .00175 base money factor
2013 XC-90 3.2 FWD R-Design Platinum
36-month | 15k miles | residual 55% | .00178 base money factor
48-month | 15k miles | residual 45% | .00175 base money factor